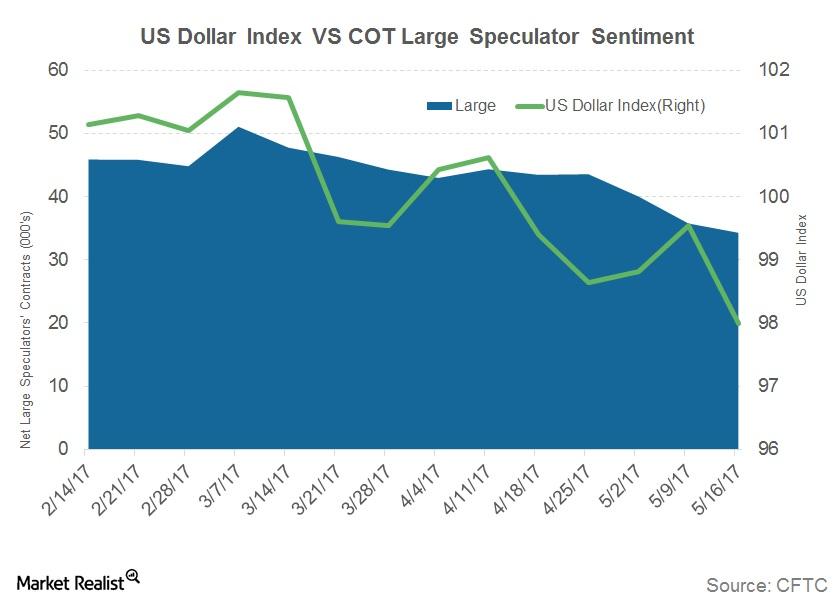 Is the US Dollar the Only Positive for US Economy Right Now?
US dollar fell last week
The US dollar (UUP) continued to trend lower against its trading partners with the US Dollar Index (DXY) losing 2.1% in the week ending May 19, 2017. The US Dollar Index closed for the week at 97.03, the lowest level that the index has seen since the US elections in November last year. The reason for this fall was the market-related anxiety that began after the Trump news surfaced. A weaker US dollar helps improve the competitiveness of US companies and the country's exports (BA). If this weakness continues, it would be one green shoot that could indirectly help the US economy.
The US Dollar Index measures the dollar relative to a basket of foreign currencies including the euro (FXE), the Japanese yen, the Canadian dollar (FXC), the British pound (FXB), the Swedish krona, and the Swiss franc (FXF). The base year for this index is 1973, and the base began at 100.
Article continues below advertisement
Article continues below advertisement
Other reasons for the dollar's weakness
Apart from the Trump-Comey news, the US dollar was also impacted by weaker-than-expected economic data. Manufacturing, housing starts, and building permit data came in lower than expected. However, the Philly Fed Manufacturing Index came in at 38.8 against an expectation of 22.0, giving some respite to the falling dollar.
What to expect next week
The focus in the coming week will be on politics, as markets will carefully monitor the testimony of former FBI director Comey and the FOMC meeting minutes. Markets will be watching for signs of an impending rate hike in June, and if the minutes suggest otherwise, we could witness further weakness in the dollar.
In the next part of this series, we'll analyze why bond markets were largely unaffected by the Trump news.