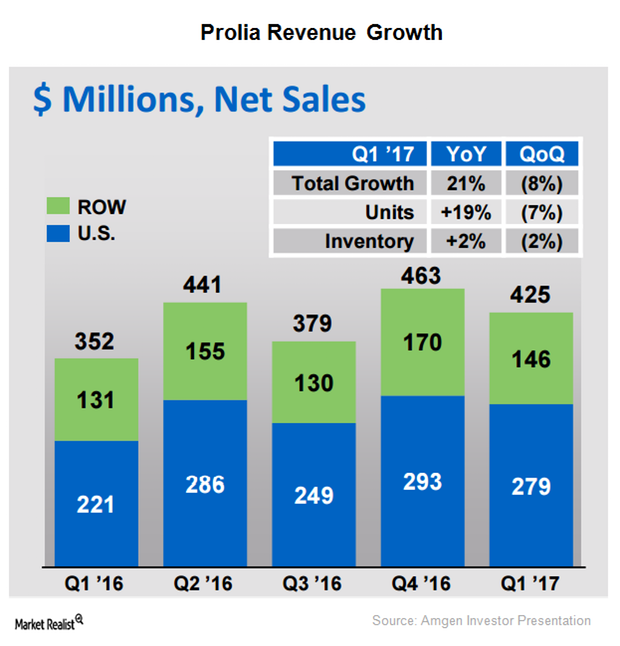 Prolia Continued to Lead in the Bone Health Segment in 1Q17
Prolia's growth trends
In 1Q17, Amgen's (AMGN) Prolia continued to be a dominant player in the bone health segment. Indicated for postmenopausal osteoporosis, the drug managed to gain market share across all geographies in 1Q17. To know more about Prolia, read Amgen: Exploring Opportunities in the Bone Segment.
If Prolia continues to witness solid demand trends in the remaining quarters of 2017, it could have a positive impact on the company's share price as well as the price of the Vanguard Total Stock Market ETF (VTI). Amgen makes up ~0.50% of VTI's total portfolio holdings.
In 1Q17, Prolia reported revenue worth $425 million, a year-over-year (or YoY) rise of ~21%. The drug's differentiated clinical profile was a key factor driving its demand.
Amgen has planned to invest in creating further awareness for the drug, which in turn will boost demand in future years. Further, the company is also promoting adherence to Prolia for patients already using the drug.
Currently, 850,000 people are using Prolia. This amount accounts for only 20% of the total addressable market in the United States, highlighting the scope of growth opportunity available for the drug.
Prolia has enabled Amgen to pose stiff competition to other bone health players such as Eli Lilly and Company (LLY), Novartis (NVS), and Merck & Co. (MRK). To learn more about Prolia's growth opportunities, read Prolia Expected to Be a Significant Growth Driver for Amgen in 2017.
Article continues below advertisement
Evenity's growth prospects
Amgen and its partner, UCB, are focused on preparations related to the commercial launch of innovative investigational bone health drug Evenity (romosozumab) despite their not having received approval from the FDA. The agency has set the Prescription Drug User Fee Act (or PDUFA) date for Evenity's application to July 19, 2017.
Amgen believes that Prolia and Evenity can prove to be complementary to each other while treating postmenopausal osteoporosis. The company plans to position Evenity as initial treatment lasting for ~12 months to build new bone mass in patients with osteoporotic fractures.
Subsequently, Prolia will be offered to reduce the risk of fractures in these patients. To know more about Evenity, read Can Amgen's Romosozumab Strengthen Its Bone Health in 2017?
In the next article, we'll discuss growth prospects for Amgen's mature brand, Enbrel, in greater detail.