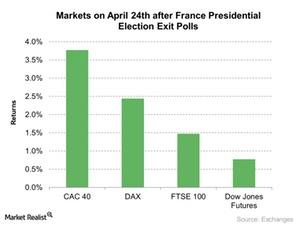 Gauging the Immediate Impact of the French Election Exit Polls
By Sarah Sands

Apr. 25 2017, Updated 3:35 p.m. ET
Markets after the exit polls
After the announcement of the French Presidential election exit polls on Sunday, April 23, 2017, global markets showed massive movement. Major Asian indexes, Eurozone indexes, and US market futures all opened on positive notes.
Article continues below advertisement
European indexes
The United Kingdom's (EWU) FTSE 100 jumped by 1.5%, while France's (EWQ) CAC 40 jumped by 3.4%, and Germany's DAX (EWG) jumped by 2.44% immediately after the opening of the market on April 24, 2017. All these indexes appear to be continuing their positive directions.
These positive movements in various indexes suggest that markets were pleased with the exit polls in France, and it looks as if the highest percentage of votes gained by Emmanuel Macron caused a rally. Macron is campaigning on pro-EU (EU) (VGK) (IEV) (EZU) sentiments, business friendly sentiments, and tax exemptions for France's local housing.
Volatility
Notably, the CBOE Market Volatility Index, which measures volatility, fell nearly 23.7% on April 24, 2017, as of 06:30 AM EST. During major events, the volatility index (VIX) reacts differently. In August 2015, for example, the devaluation of the Chinese yuan (YINN) (MCHI) spooked markets. VIX rose 143% during the yuan's devaluation. During the UK's Brexit vote, the volatility index rose nearly 56% between June 23, 2016, and June 24, 2016.
In the next part, we'll analyze how France's election exit polls could impact its GDP growth.