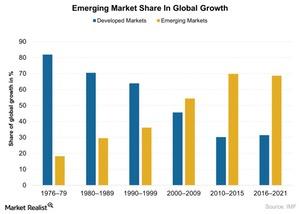 Emerging Market's Increasing Share in Global Growth and Its Impact
Emerging market share in global growth
The economic growth in emerging markets is expected to support its market performance in 2017. Emerging market economic growth is expected to improve in 2017 due to:
cyclical recovery in some important economies like Brazil (EWZ)
relatively stable commodity prices
However, geopolitical uncertainty is expected to potentially increase market volatility and affect capital markets. Let's look at the share of emerging markets in global growth in the chart below:
Article continues below advertisement
Decreased share in the global growth
Emerging markets (VWO) (EEM) rely heavily on global trading activity for their economic growth. Global economic growth is expected to rise to 4.8% in 2017, compared to 4.5% in 2016. Global growth is expected to help support global trading, which in turn is expected to help the emerging markets' performance in 2017.
The recent change in US monetary policy and its increasingly hawkish stance has also triggered a rise in global inflation and global growth.
As we can see in the chart above, emerging markets (EEM) are expected to contribute about 60% to global GDP growth from 2016–2021, up from about 50% a decade ago, according to the IMF forecast.
However, there has been a slight drop in the forecast compared to the last five years. Over the years, the contribution by emerging markets to global growth has increased, resulting in improved performance in their capital markets.
As the economy grows, corporations' earnings could improve, driving the market performance. The iShares MSCI Emerging Markets ETF (EEM) gained about 12% in 1Q17.
Emerging markets' performance
The improved growth in emerging markets was led by a cyclical recovery in Brazil (EWZ) and Russia (ERUS). Emerging markets are also expected to benefit from the increased growth expectation of China, with the substantial fiscal stimulus measures undertaken by the People's Bank of China.
In 1Q17, China led the performance of emerging markets compared to its peers. The iShares MSCI China ETF (MCHI) gained about 15% in 1Q17. The Latin American ETF, the iShares MSCI Brazil Capped ETF (EWZ), followed as it gain about 10% in 1Q17.
For more information on emerging markets, please check out Market Realist's Is Emerging Markets Debt Ripe with Yield Opportunities?