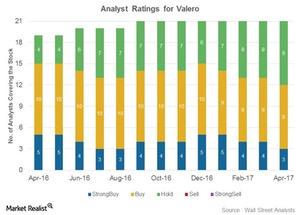 Are Valero's Analyst Ratings Weaker or Stronger before the 1Q Results?
Analyst ratings for Valero
Valero Energy (VLO) is being covered by a total of 21 Wall Street analysts. Of those 21, 12 (57%) analysts have assigned "buy" or "strong buy" ratings, while nine (43%) have assigned "hold" ratings, and no one has assigned a "sell" or a "strong sell" rating on the stock.
Notably, VLO's mean target price of $72 per share implies an 11% gain from the current level.
Valero has a sound leverage level and a healthy cash flow position and has distributed dividends consistently, and these factors help explain why most analysts are rating Valero as a "buy." But a few analysts also rate Valero as a "hold," likely due to its high and uncertain RIN (renewable identification number) purchase burden, which strongly impacts Valero's earnings. (For more on RINs, you can refer to Market Realist's "If Only the RFS Program Rumors Were True.")
Article continues below advertisement
Changes in analyst ratings for Valero
As compared to April 2016, VLO's ratings have weakened, with "buy" ratings declining and "hold" ratings rising. After its 4Q16 earnings release, VLO saw cuts in the target prices put up by investment banking firms.
J.P. Morgan, which has an "overweight" rating on the stock, has cut its target price to $72 from $73, while Morgan Stanley has cut its target price to $77 from $80. Barclays has cut its target price for VLO to $85 from $95 and now has an "outperform" rating on the stock.
Peer ratings
By comparison, peers Delek US Holdings (DK), HollyFrontier (HFC), and Western Refining (WNR) have been rated as a "buy" by 33%, 29%, and 17% of analysts, respectively. Downstream peers PBF Energy (PBF) and Alon USA Energy (ALJ) have been rated as a "buy" by 35% and 11% of analysts, respectively.
If you're looking for exposure to mid-cap stocks, you might consider the SPDR S&P MIDCAP 400 ETF (MDY). MDY has ~4% exposure to the energy sector stocks, including HFC and WNR.