Valeant's Dermatology Business Felt Pricing Pressure in 2016
Dermatology pricing trends Valeant Pharmaceuticals' (VRX) dermatology business witnessed intense pricing pressure in 2016, due to a change in the company's distribution model in 4Q15. While Valeant previously marketed its dermatology drugs through specialty pharmacies, the company now distributes its products through Walgreens. To learn about the company's current distribution model, please refer to How Valeant Plans […]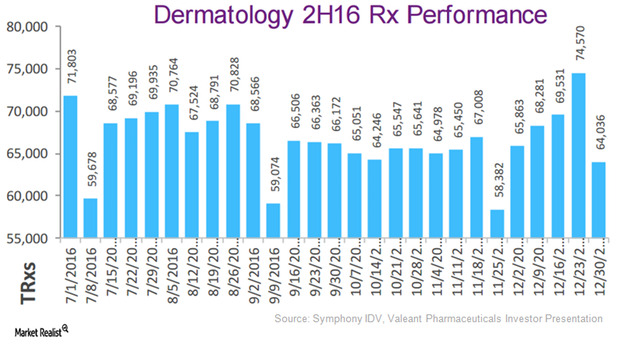 Dermatology pricing trends
Valeant Pharmaceuticals' (VRX) dermatology business witnessed intense pricing pressure in 2016, due to a change in the company's distribution model in 4Q15. While Valeant previously marketed its dermatology drugs through specialty pharmacies, the company now distributes its products through Walgreens. To learn about the company's current distribution model, please refer to How Valeant Plans to Its Fix Dermatology Portfolio.
Valeant has also entered into reimbursement contracts with multiple managed care organizations in the United States. These developments, coupled with co-pay assistance programs, have resulted in lower realized prices for the company's dermatology drugs.
If these trends continue in 2017, its share price and that of the Global X Top Guru Holdings Index ETF (GURU) could be impacted. Valeant makes up about 0.19% of GURU's total portfolio holdings.
Article continues below advertisement
Article continues below advertisement
Dermatology volume trends
In 2016, prescriptions for Valeant's dermatology drugs dropped significantly as there was a solid decline in existing patients' refill rate. In late 2016, the company managed to restore prescription levels to those seen in 2015. While prescription levels stabilized in 2016, Valeant expects volume pressure for its dermatology drugs due to higher co-pays. The company competes with dermatology players Novartis (NVS), Eli Lilly and Company (LLY), and Johnson & Johnson (JNJ). To learn more about co-pays, please refer to Making sense of health insurance companies' payment options.
An increase in gross-to-net rebates given to managed care organizations may further increase pricing pressure on the company's dermatology business in 2017. Valeant expects its dermatology franchise to a witness year-over-year (or YoY) revenue drop of 8%–10% in 2017. However, the company has also projected a turnaround for its dermatology business in 2018 due to new product launches. In the next article, we'll explore Valeant's 2017 goals for its dermatology business in greater detail.