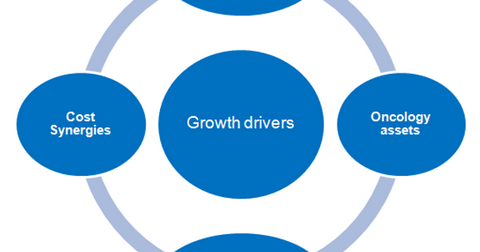 Novartis Expects to Witness Flat Revenue Growth in 2017
By Margaret Patrick

Updated
Flat revenue growth
Novartis (NVS) has projected its 2017 revenue to be close to what it earned in 2016. The company also expects its core operating income to be flat or to fall in the single digits percentage-wise on a year-over-year (or YoY) basis in 2017.
In 2017, Novartis has projected that its Innovative Medicines segment will report revenue similar to its revenue in 2016. The Sandoz segment, however, is expected to report low single-digit revenue growth on a YoY basis. The Alcon segment is also expected to report flat or single-digit revenue growth on a YoY basis.
Article continues below advertisement
Novartis's subdued financial performance projections for 2017 are mainly attributed to the generic erosion of blockbuster its oncology drug, Glivec, and its ongoing launch investments. Further, Alcon's core margins are expected to come under pressure due to higher investments required to boost the segment's future revenue growth.
If Novartis manages to report higher-than-expected revenue growth in 2017, its share price could see a boost, as could the price of the First Trust Value Line Dividend Index ETF (FVD). Novartis makes up ~0.52% of FVD's total portfolio holdings.
Growth drivers
Novartis expects its Pharmaceuticals segment to be a major growth driver in 2017. This growth will be mainly driven by the increased uptake of new products such as Cosentyx and Entresto. To know more about Cosentyx, read Novartis's Cosentyx Managed to Achieve Blockbuster Status in 2016. 
You can also learn more about Entresto's growth trends by reading Why Entresto Could Become Key Growth Driver for Novartis in 2017.
Novartis has also projected solid demand trends for its new oncology assets acquired from GlaxoSmithKline (GSK) in 2014. Further, the company expects to secure FDA approval for its investigational oncology drug, LEE011, in 2017.
Novartis expects Sandoz's biopharmaceuticals segment to benefit from the possible launch of a generic version of Teva Pharmaceutical's (TEVA) Copaxone 40 mg, called Glatopa 40mg, in 2017. Mylan (MYL) also plans to launch a generic version of Copaxone in 2017.
Besides top line growth, Novartis also plans to introduce cross-divisional synergies by controlling expenses in 2017.
In the next article, we'll discuss Novartis' strategy to revamp Alcon's surgical business in 2017.