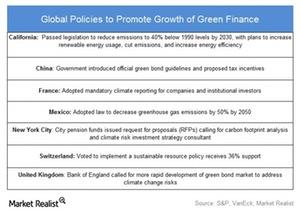 The Economic Costs That Come with Climate Goals
By Sushree Mohanty

Nov. 20 2020, Updated 11:49 a.m. ET
VanEck
Climate goals come at a staggering cost
Despite these potential issues, what is clear is that there is a concerted effort by governments globally to slow down the effect of climate change, which has begun to result in policies and regulations to achieve their goals. Governments, municipalities, and companies in developed and developing countries must make significant investments to achieve the goals that have been established. The amount of investment needed is staggering, estimated at $53 to $93 trillion over the next 15 to 20 years (Source: Climate Bond Initiative based on International Energy Agency and New Climate Economy estimates).
Article continues below advertisement
With debt-to-GDP ratios in developed economies already at or exceeding 100% (Source: International Monetary Fund (IMF) governments simply do not have the resources to make the needed investments to transition to a low carbon economy. Private capital is, therefore, needed to fill this financing gap. The global debt capital markets, with more than $90 trillion currently outstanding (Source: Bank of International Settlements or BIS) is expected to play a vital role.
For these reasons, green bonds have begun to receive the attention of both issuers and investors worldwide. Although green bond issuance has exploded in recent years, 2016 issuance was still only about 1% of total bond issuance during the year (Source: Moody's: Record Year for Green Bonds likely to Be Eclipsed Again in 2017. January 18, 2017). Issuance of green bonds will need to scale up massively in short order to finance the projects needed to transition to a low carbon economy.
Article continues below advertisement
Market Realist
Transition to a low-carbon economy
With the increase in levels of greenhouse gas emissions and a spike in global temperatures, governments of some developed nations (EFA) (VEA) and emerging markets (EMB) (VWO) are making climate mitigation policies and regulations a priority. Countries that signed the Paris Agreement obviously show their concern for climate change.
But climate-related policies and a transition to a low-carbon economy require capital, and most countries are already burdened with high debt. One solution might be to mobilize existing capital rather than create new capital.
This is where green bonds come into the picture. Green bonds serve as a funding tool, mainly to finance projects and infrastructure needed to combat climate change and transition to a low-carbon economy by 2030. Traditional investments also face the challenge of climate-related risks, so many investors are opting to include green bonds in their investment portfolios. The issuance of green bonds is expected to increase by the end of 2017. Proceeds from green bonds could be used for environmentally friendly projects such as renewables (QCLN), energy efficiency (VDE), and clean transportation (IYT).
In the next part, we'll see how green bond principles are promoting the green bond market.