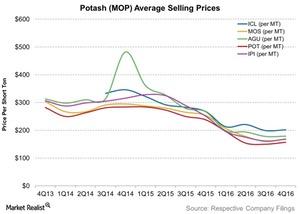 Potash on the Barrel: Prices for Five Major Producers
Potash prices
The selling price of potash has been on the decline for the last few quarters and is key to the performances of potash producers (NANR). For more information, you can read Market Realist's weekly series Fertilizer Stocks' Performance for the Week Ending March 3 to track fertilizer prices. Below, we'll discuss the details of recent trends in potash prices.
Article continues below advertisement
Prices fall
On average, potash prices for the above five producers fell about 33% YoY (year-over-year) in 4Q16. Excess supply and weak demand as customers negotiated contracts or tapped into their inventories put downward pressure on potash prices in the fourth quarter as well.
PotashCorp (POT) saw its potash prices fall 34% YoY to $157 per metric ton. This was followed by Intrepid Potash's (IPI), which saw its realized potash prices fall 33% YoY to $167 per metric ton—a continuation of last quarter's trend.
According to PotashCorp, prices fell due to competitive pressures and weakness in potash demand. Competitive pressures are likely to hint at overcapacity in the market, which has pressured prices over the year.
Other players
Mosaic's (MOS) potash prices also fell 33% YoY to $169 per metric ton. Agrium (AGU) was next, with its potash prices falling 32.9% to $179 per metric ton. Compared to the above four companies, Israel Chemicals' (ICL) potash prices were impacted the least, falling by 24.6% to $202 per metric ton from $268 per metric ton.
Now let's continue our discussion to see how these producers performed in terms of margins in this segment.