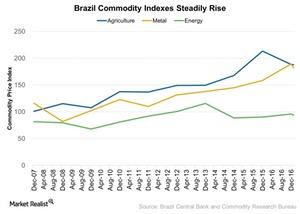 Will Rising Commodity Prices Help Brazil Recover?
Rising commodity prices to support Brazil's recovery
Brazil (EWZ) is expected to see a reversal of the downward trend in its economic growth in 2017, mostly with the help of rising commodity prices and improvements in exports. The rise in commodity prices is expected to support the Brazilian real, as commodities account for ~50% of Brazil's exports.
Article continues below advertisement
Commodities' performances in 2016
Brazil (EWZ) is the largest economy in the Latin American region (ILF), and it's also one of the major exporters of commodities such as iron ore. Iron ore prices fell 50% at the beginning of 2016 due to reduced demand from China. Since 2008, the Chinese construction sector boom had increased demand for iron ore, but increased capacity expansion led to lower demand over the years, bringing exporters' bottom lines under pressure. Brazil's export contribution to GDP is ~13%, according to a 2015 report by the World Bank.
However, the price of iron ore rose ~80% later in 2016. The price of spot iron ore hit $94.86 on February 21, 2017, its highest level since August 2014. The combination of an expected rise in demand from China due to its infrastructure stimulus in 2017 and low-grade domestic iron ore production should help to increase iron ore prices throughout 2017. Companies likely to benefit from the price rise include Vale (VALE), Gerdau (GGB), and Companhia Siderúrgica Nacional (SID).
Agricultural commodities
Agricultural exports have also suffered in the last two years due to a severe drought. Reduced production bumped the prices of commodities such as soya beans and corn, but overall business was hurt due to reduced exports affecting the companies in the sector.
The Brazilian crop agency has upgraded its expectation for the soya bean harvest to 103.8 million tons for 2017, a rise of 9% compared to 2016. The corn crop is expected to be 84.5 million tons, a rise of 0.7 million compared to 2016. These upgrades are likely to help the companies involved in the business of agricultural commodities.
Let's look at the contribution of the service sector to Brazil's growth in our next article.