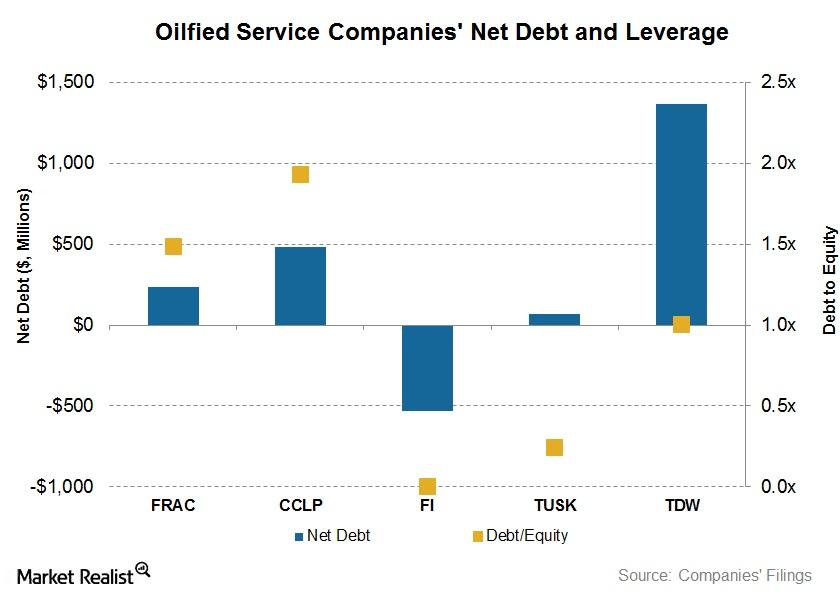 Comparing Keane Group's Net Debt and Leverage with Peers'
By Alex Chamberlin

Jan. 31 2017, Updated 9:08 a.m. ET
Comparing Keane Group's net debt with peers'
On September 30, 2016, Keane Group's (FRAC) net debt was $235.3 million. From December 31, 2015, to September 30, 2016, FRAC's total debt rose 30%. FRAC's debt increased following the acquisition of Trican in March 2016. Net debt is aggregate short- and long-term debt less cash and equivalents.
In comparison, FRAC's oilfield services industry peer CSI Compressco's (CCLP) net debt on September 30, 2016, was $482 million while net debt for Frank's International (FI) was -$529 million. FI's net debt was negative as a result of low debt and a huge cash balance. Mammoth Energy Services' (TUSK) net debt was $69 million on September 30, 2016. Tidewater's (TDW) net debt was $1.36 billion on September 30, 2016. TDW has been facing debt covenant–related issues recently. Read more in Market Realist's Is Tidewater in Danger of a Default?
Article continues below advertisement
Comparing Keane Group's leverage with peers
Keane Group's debt-to-equity (or leverage) was 1.5x on September 30, 2016. In comparison, CCLP's leverage was 1.9x while Tidewater's leverage was 1x on September 30, 2016. TUSK's leverage was relatively low at 0.25x. FI's leverage was nearly zero as a result of TDW's nearly debt-free balance sheet. Debt-to-equity ratios measure the proportion of debt financing relative to a company's shareholders' equity. A high debt-to-equity ratio indicates higher risk.
TUSK is 0.01% of the iShares Russell 2000 ETF (IWM).
What returns have Keane Group's peers offered? We'll discuss them next.