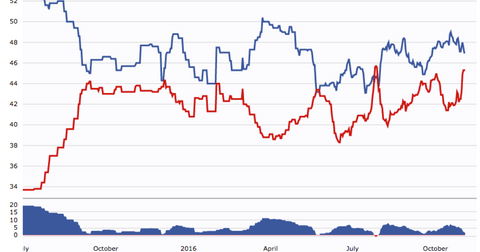 Which Candidate Is Better for Stock Markets?
By Rebecca Keats

Updated
Equity markets are closely linked to elections
US elections will be held on November 8, 2016. As Election Day nears and the campaign season comes to an end, investors in the financial sector are getting nervous. White House races and stock market volatility go hand in hand.
Equity markets closely follow election results. In the 21 US elections since 1932, the S&P 500 Index (SPY) has risen in the first month ~50% of the time. However, within the three months after the election, markets have risen ~67% of the time. Historically, markets and investors have preferred Democrat over Republican victories. The chief economist at LPL Financial concluded that the sectors most exposed to election results are the financials, energy, and healthcare segments.
[marketrealist-chart id=1723175]
Article continues below advertisement
Historically, US stock markets have gained more under Democratic presidents. Since 1945, markets have returned 9.7% under Democratic presidents versus 6.7% under Republicans. Currency also tends to favor the Democratic party. The US dollar index tends to fall during Republican presidencies and rise under Democrats. "The market has already priced in a Clinton victory," said Margaret Yang, a CMC Markets analyst in Singapore. "Any upside will be limited if she wins," she added. Barclays (BCS) predicts that the S&P 500 Index (SPY) could gain as much as 3% if she wins.
Market experts believe that the chance of a Clinton presidency far outweighs the chance of a Trump victory. The ramifications of policies set forward by both these candidates need to be analyzed to understand how they affect different sectors. For banks (BAC) (JPM), a Trump presidency is likely more favorable, as it could mean fewer regulations and more infrastructure spending.