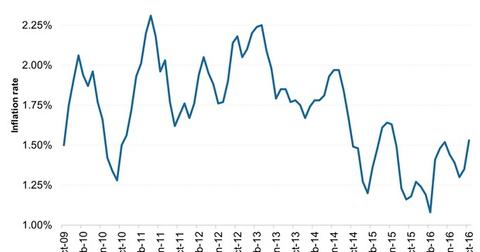 Why Richard Bernstein Sees Risk in 'Safe' Investments
By David Ashworth

Updated
A rise in inflation expectations
Richard Bernstein believes that investors' flocking to fixed-income products and shunning equities has increased their risk. 
We've seen how a change in macroeconomic trends can impact bonds, and Bernstein believes that investors' portfolios are incorrectly positioned for such a change.
Bernstein sees risk coming from the rise in inflation expectations. To substantiate his viewpoint, he provided a chart of the five-year forward breakeven inflation rate. Calling the metric "supposedly the Fed's favorite measure of inflation expectations," he pointed to the fact that inflation expectations may have bottomed out in February 2016 with the stock market bottom.
Article continues below advertisement
Incorrect portfolio positioning?
If inflation is indeed on the rise, fixed-income instruments (VCSH) (VCIT) (PHB) could be in for a rough time. A rush toward fixed income products at a time when inflation expectations have bottomed out seems out of sync with what the trend should be.
If inflation is rising, one would expect investors to move away from bonds and debt funds and shorten their durations quite sharply. Duration measures the interest rate sensitivity of a bond's price (AGG) (BND). The higher a bond's duration, the more sensitive its price is to a change in interest rates.
When inflation rises, a central bank stands ready to take policy actions that ensure inflation doesn't gallop and remains within the boundary of its target level, if any. The US Federal Reserve is mandated to keep inflation at 2% in the long term.
With a rise in both inflation expectations and actual inflation, interest rates have quite a high possibility of rising in the short term. According to Bernstein, "It seems unreasonable to expect broad fixed-income returns to be attractive if the recent trend in inflation expectations continues."
In the next article, we'll look at a demonstration of the opportunity cost of investing in equities as shown by Bernstein.