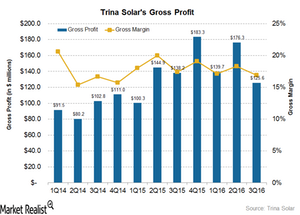 How Did Trina Solar's Costs Affect Its Gross Margin in 3Q16?
Trina Solar's gross margins
In 3Q16, Trina Solar (TSL) reported a gross profit of $125.6 million compared to $176.3 million in 2Q16. On a YoY (year-over-year) basis, the company's gross profit fell nearly 9.0%, from $138.2 million in the third quarter of 2015.
Trina Solar's gross margin for 3Q16 came in at 16.9%, marginally above analysts' expectations of 16.8%. It reported gross margins of 18.3% in 2Q16 and 17.4% in 3Q15.
However, gross margins fell both on a YoY and QoQ (quarter-over-quarter) basis, primarily due to the faster rate of decline in module ASPs (average selling prices) compared to cost reductions.
Article continues below advertisement
Operating expenses
Trina Solar's selling expenses were about $43.0 million in 3Q16. That figure represents a 4.0% fall from $45.0 million in 2Q16. Its selling expenses fell nearly 5.0% on a YoY basis.
G&A (general and administrative) expenses came in at about $39.0 million in 3Q16, a 10.0% fall compared to $43.0 million in 2Q16. However, G&A expenses rose nearly 12.0% compared to $35.0 million during the same period in 2015.
R&D (research and development) expenses are required in order for upstream solar (TAN) companies such as First Solar (FSLR), SunPower (SPWR), SunEdison (SUNEQ), Canadian Solar (CSIQ), and Trina Solar to remain competitive. Trina Solar's R&D expenditure fell nearly 50.0% to about $5.9 million in 3Q16 compared to $11.7 million in 2Q16.
TSL's overall operating expenses for 3Q16 came in at $70.6 million compared to $92.6 million in 2Q16 and $132.3 million in 3Q15. The fall was mainly due to a rise in the company's other operating income from electricity generated by its downstream solar power projects.
Net income
Higher other operating income accompanied by lower foreign exchange losses resulted in higher-than-anticipated net income for Trina Solar in 3Q16. The company reported a net income of about $27.0 million for 3Q16 against analysts' net income estimates of about $11.0 million.
In the next part of this series, we'll look at Trina Solar's financial condition and manufacturing capacity at the end of 3Q16.