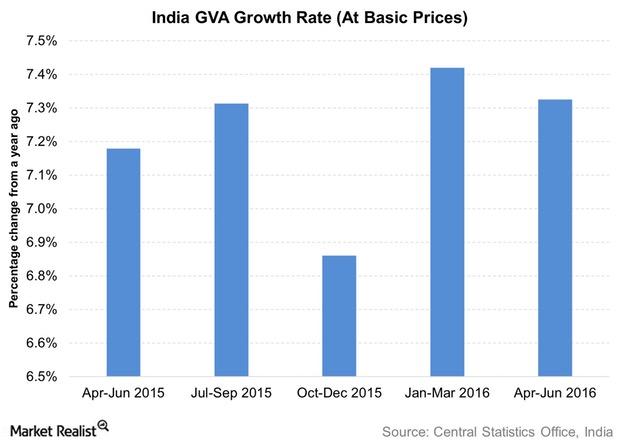 How Could Demonetization Impact the Indian Economy?
Demonetization will hit the economy
The demonetization of the 500 rupee note and the 1,000 rupee note—the two highest currency denominations available in India—will likely hit the economy hard in the short term. The surprise move is expected to grind the consumption activity in the Indian economy to a virtual halt. The service sector, which dominates economic activity and involves a sizable chunk of cash transactions, will likely be hit the hardest.
Article continues below advertisement
Article continues below advertisement
India's economic growth
Growth in the Indian economy remained solid in the quarter from April to June 2016 (the latest available). In India, a financial year begins in April and ends in March of the following year. The previously mentioned quarter is the first quarter of fiscal 2016–2017. During that period, the GDP (gross domestic product) rose 7.1%, while the GVA (gross value added) rose 7.3%. The relationship between the GDP and GVA is:
GDP = GVA + taxes on products – subsidies on products
The base year for calculating the GVA is 2011–2012.
The fall in economic activity due to demonetization could last from two to three quarters. As a result, GDP and GVA growth in the quarters from September to December 2016 and January to March 2017 could be significantly lower than previous years. Some bounce back should be seen in the first quarter of fiscal 2017–2018. In the medium term, the Indian economy can grow considerably after curbing the debilitation caused by counterfeit money and an increase in economic activity.
A fall in discretionary consumption will hurt companies operating in this space (TTM) (VEDL). However, a rise in tax flow and lower interest rates, are expected to help the Indian economy (PIN) (EPI) (INDA) grow stronger.
In the next part, we'll discuss how demonetization could impact inflation in India.