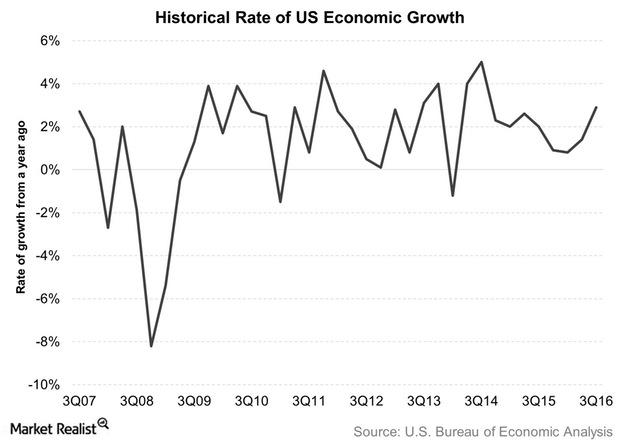 Bill Gross: Monetary Policy on Steady but Slow Path
By David Ashworth

Nov. 4 2016, Published 10:43 a.m. ET
Steady but slow
Bill Gross was left quite aghast when the FOMC (Federal Open Market Committee) decided not to hike rates in its September 2016 meeting. He expressed his anguish on CNBC's Power Lunch by stating, "I'm choked with emotion and hardly able to speak." His disappointment stemmed from the discrepancy between FOMC participants' hawkish tone leading up to the meeting and their eventual dovish stance.
However, after the release of the FOMC's November statement, Bill Gross said that monetary policy in the United States is steadily moving toward normalization, though its pace is slow. He was again speaking at CNBC's Power Lunch.
CNBC reported Gross saying that the moot point was whether the pace of economic growth could exceed the 2% mark.
Article continues below advertisement
Can the US economy grow at over 2%?
In the interview, Gross stated, "The fact is that 1 to 2 percent real GDP growth and near 0 percent interest rates, which lowers margins for financial companies, basically doesn't produce much in terms of earnings growth." He added, "We're stuck in this 0 to 2 percent rut and it's not good for financial assets, which have been overpriced for 5 to 6 years."
He also pointed to structural issues such as an aging population and high debt levels, among others, are important aspects on which investors should keep a close eye.
A rise in economic growth, supported by inflation, would ensure that the FOMC remained on a steady path toward interest rate normalization. This would lead investors to focus more on equities (IVE) (IWB) and move to shorter maturities (VCSH) (BSV) among their fixed-income investments (BND).
As far as structural issues are concerned, it would be up to the next president to take concrete action, as structural reforms take several years to display their impact on an economy.
In the next article, let's look at how the market reacted to the FOMC's November policy statement.