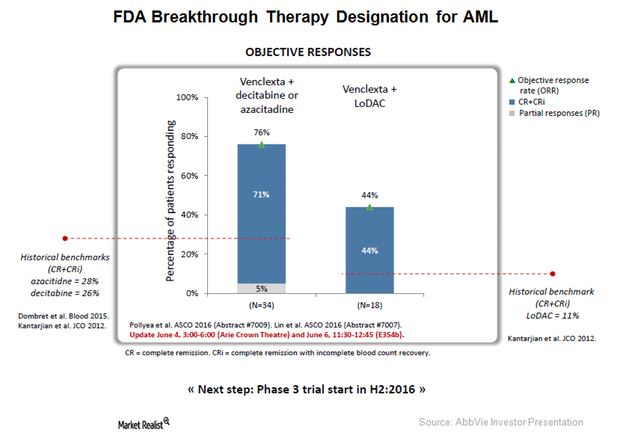 Acute Myeloid Leukemia: Growth Opportuny for AbbVie's Venclexta?
By Margaret Patrick

Dec. 2 2016, Updated 10:04 a.m. ET
Acute myeloid leukemia
AbbVie's (ABBV) Venclexta has been granted breakthrough therapy designation from the FDA (U.S. Food and Drug Administration) as a first line therapy for patients suffering with acute myeloid leukemia (or AML) and who are ineligible for high-dose chemotherapy.
The above diagram shows data obtained from Phase 1 clinical trials testing the use of Venclexta in patients with AML. While the historic response rate for existing standard of care azacitidine or decitabine is around 28.0%, combining Venclexta with any of these hypomethylating agents results in an increase in the response rate to around 71.0%.
Article continues below advertisement
Low dose Ara-C (or LoDAC) has historically demonstrated response rates of 10.0%–11.0% in AML patients. Combined with Venclexta, it shows a response rate of around 44.0%. Venclexta thus has the potential to strengthen AbbVie's (ABBV) position in the oncology segment, which is currently dominated by players such as Celgene (CELG), Bristol-Myers Squibb (BMY), and Merck & Co. (MRK).
Market opportunity
According to AbbVie's R&D (research and development) Day transcript, every year, there are about 20,000 new cases of AML in the United States. Around 10,000 patients in the United States die annually from the disease. The median age of diagnosis is greater than 67 years. The five-year survival rate is low at about 27.0%, but it's even lower for patients over 65 years of age.
Currently, there are limited treatment options for AML, and no major development in the AML treatment arena has been recorded in the last 25 years.
The standard of care for AML in younger patients is high-dosage chemotherapy comprised of cytarabine and anthracycline. Patients suffering with other comorbidities in addition to AML are administered a low dosage of cytarabine and hypomethylator. A stem cell transplant is considered the only existing cure for the disease.
There's a significant unmet demand in the AML space, and there's a need for improved treatment options for those patients who cannot tolerate intensive chemotherapy. More treatment options are needed for patients who fail to respond to the existing standard of care for AML. These factors, combined with high disease mortality and limited treatment options, could drive growth for Venclexta in the AML segment.
If Venclexta is approved for AML by regulatory authorities, it could have a beneficial impact on AbbVie's share prices as well as those of the Vanguard Growth ETF (VUG). AbbVie makes up about 1.1% of VUG's total portfolio holdings.
In the next and final part of the series, we see what progress Venclexta's research programs are making in the multiple myeloma area.