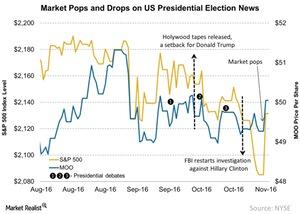 What 2016 Election Means for MON, POT, ADM, and Agribusiness
By Adam Jones

Nov. 8 2016, Updated 11:13 a.m. ET
The 2016 election
On November 2, the US markets rose on the news that the FBI had cleared Hillary Clinton in regards to her email controversy. Now, let's look at how the market reacted to some of the other major 2016 election-related events.
Article continues below advertisement
Market pops
The S&P 500 (SPY) rose 2.2% to 2,131.5 levels at the day's close, while the VanEck Vectors Agribusiness ETF (MOO) rose 1.5%, which is not surprising given that MOO has a beta of 0.67x to the S&P 500 Index. The fact that the market popped following the FBI's remarks suggests that Hillary Clinton would be more favorable for stocks than Donald Trump.
The markets also popped slightly on October 10, the day following the second presidential debate. This debate was right after Hollywood tapes against Donald Trump were released on October 7. However, in the following weeks, the market continued to fall.
About the ETF
We have used the VanEck Vectors Agribusiness ETF in the chart above as a representation of the agribusiness stocks that include holdings in Monsanto (MON), Syngenta (SYT), PotashCorp (POT), Archer Daniels Midland (ADM), and Bunge (BG). Overall, MOO holds about 30.6% of its portfolio in the agricultural chemicals sector.
Series overview
In this series, we'll discuss the importance of the US presidential election in 2016 for the stock market in general and agribusiness stocks in particular. We'll also look at how markets might perform in the year following the election results.