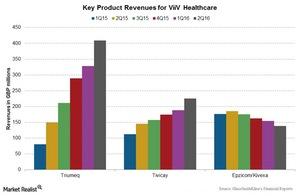 GlaxoSmithKline's Combo Treatment for HIV Faces Stiff Competition
By Mike Benson

Updated
HIV business
GlaxoSmithKline's (GSK) HIV medicines business is managed by ViiV Healthcare, a global specialist company in HIV medicines. This company has GlaxoSmithKline as a major shareholder, while Pfizer (PFE) and Shionogi are among the other shareholders. ViiV Healthcare is focused on delivering advances in HIV treatment and care.
HIV products reported growth of 44% to 865 million pounds in 2Q16 over 2Q15. The growth has been driven by new products Tivicay and Triumeq, partially offset by declining sales of Epzicom/Kivexa. Geographically, the sales of HIV products in the US markets increased by 52% while the sales in Europe and international markets increased 39% and 22% respectively, mainly driven by Tivicay and Triumeq. During 2Q16, Epzicom/Kivexa sales fell by 21% to 157 million pounds, Selzentry sales fell by 10%, Combivir sales fell by 44%, and Lexiva sales fell declined 28% due to the generic competition.
Article continues below advertisement
Tivicay and Triumeq
Tivicay and Triumeq are the key products for the treatment of patients with HIV-1 infections. Tivicay is prescribed in combination with other antiretroviral drugs, while Triumeq is a combination of three antiviral drugs. Tivicay reported a 43% growth at constant exchange rates in its 2Q16 revenues at 225 million pounds while Triumeq reported over 100% growth at constant exchange rates in its 2Q16 revenues at 409 million pounds. The combined revenues for both these drugs are estimated to reach 4.5 billion pounds by 2020. Tivicay competes with Gilead Sciences' (GILD) Stribild, while Triumeq competes with Gilead's and Bristol-Myers Squibb's (BMY) jointly developed Atripla.
Bristol-Myers Squibb's R&D assets for HIV
ViiV Healthcare announced on February 22, 2016, that in order to strengthen its HIV pipeline and outlook, the group completed the acquisition of Bristol-Myers Squibb's HIV research and development assets. These assets include late-stage HIV R&D assets as well as a portfolio of preclinical and discovery stage HIV assets.
Investors can consider the PowerShares International Dividend Achievers' ETF (PID), which holds 2.4% of its investments in GlaxoSmithKline while it holds 1.4% in Sanofi (SNY) and 1.1% each in Novartis (NVS) and Teva Pharmaceuticals (TEVA).