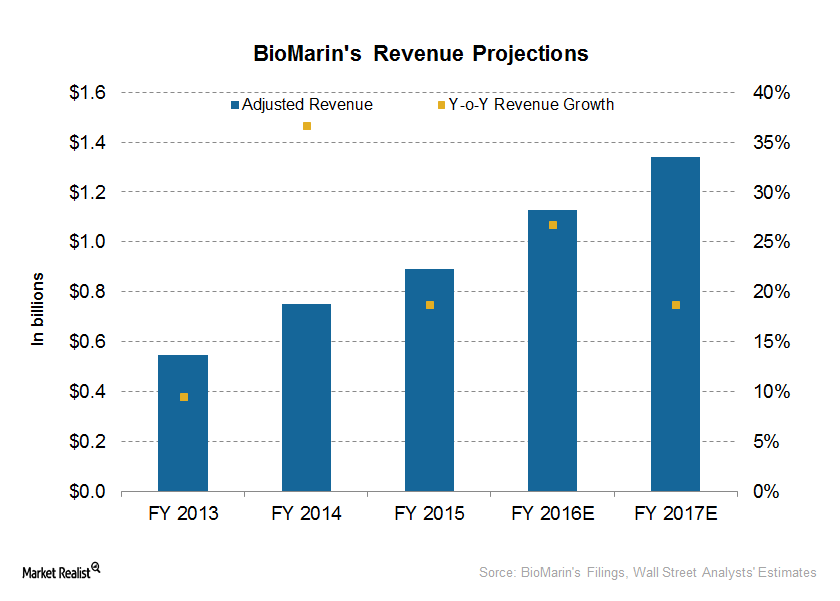 BioMarin to Cross $1 Billion Revenue in 2016
Revenue expectations
BioMarin Pharmaceutical (BMRN) expects its existing commercialized drugs to add $1.1 billion and $1.2 billion to its top line in 2016. Wall Street analysts' expectations are in line with the company's guidance, which expects revenue rises of 26.7% and 18.8%, respectively, in 2016 and 2017.
Analysts expect BMRN's other key drug, Naglazyme, to fetch $307.9 million and $333.2 million in 2016 and 2017, respectively. Kuvan should add $351.2 million in 2016 and $389.4 million in 2017. For a better understanding of BioMarin's guidance in 2016, read BioMarin's Guidance for 2016: The Inside Story.
Vimizim is expected to be a major revenue driver for BioMarin in 2016. During 2015, the drug earned $228.1 million. BioMarin now expects Vimizim to add $315 million–$340 million to its top line in 2016.
For details on the order-driven Vimizim, read BioMarin's Key Order-Driven Drugs: Vimizim and Naglazyme.
Article continues below advertisement
Revenue growth for peers in 2016
Let's try to understand the revenue growth for BioMarin's peers in the rare disease space. During 2016, Alexion Pharmaceuticals' (ALXN) revenue is expected to rise 18% to $3.1 billion. Vertex Pharmaceuticals' (VRTX) revenue should rise 69.3% to $1.7 billion, while Regeneron (REGN) is expected to witness a rise of 23.3% and $5.1 billion in revenue.
Geography-wise contributions
BioMarin earns a major portion of its revenue from the United States. In 2015, it generated ~50% of its total revenue from the United States. Europe, its second major contributor, had a share of 20%, while Latin America's contribution stood at 16%.
To reduce the risk of direct equity investment, you can opt for options such as ETFs, which offer diversified equity coverage. The First Trust NYSE Arca Biotechnology Index ETF (FBT) holds 3.2% of its total assets in BioMarin.
Continue to the next article for details on BMRN's late-stage pipeline.