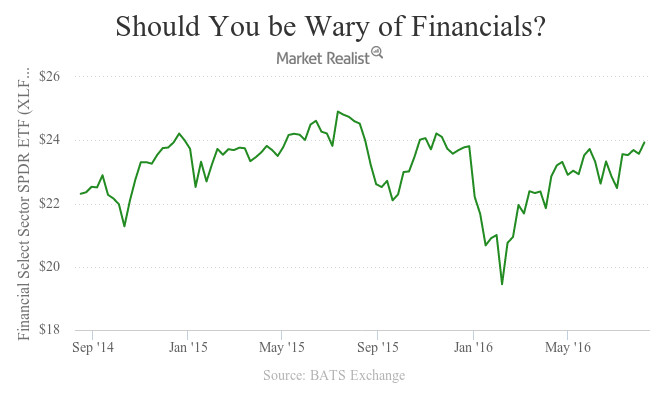 Which Sectors to Avoid if Inflation Rises
Dividend-paying sectors
Telecom services and utilities, the traditional dividend stars, have provided a fillip to US equities in 2016. The Utilities Select Sector SPDR ETF (XLU) has returned a stellar 17.6% YTD (year-to-date) in 2016 as of August 12. The iShares U.S. Telecommunications ETF (IYZ) rose 13.2% in the same period.
However, these sectors, which are bond proxies, tend to do badly when interest rates are rising. The Janus Asset Allocation team, whose views we are looking at in this series, believes that inflation is bubbling under the surface. Given the team's assessment, it seems logical to be cautious about the aforementioned sectors. A rise in interest rates impacts bonds across the yield curve. These bond proxy equity sectors, which are known for their dividend payments, get hurt for the same reason that bonds get hurt: their payments fall. The Janus team noted that another factor that can weigh on these sectors is rising labor costs, as they can weigh on earnings.
[marketrealist-chart id=1547959]
Article continues below advertisement
Be wary of financials too
Apart from utilities and telecom services, the Janus team believes that financials (XLF) (KBE) may not do well in the rising interest rate environment even though net interest margins are generally expected to improve when rates are on the rise. The model that the Janus team uses "indicates that the market does not favor financials."
In an analysis of sector-wise performances, we saw that in three previous periods of interest rate increases, returns in financials were in line to worse than the S&P 500. In the initial stages after the rate hike, financials did benefit, but later, high rates seemed to have choked off the personal and commercial loans that banks (USB) (JPM) (WFC) need to grow earnings. Thus, investors need to be cautious when investing in financials in a rising interest rate environment.
In the next article, we'll look at sectors that Janus predicts will remain neutral in a rising inflation environment.