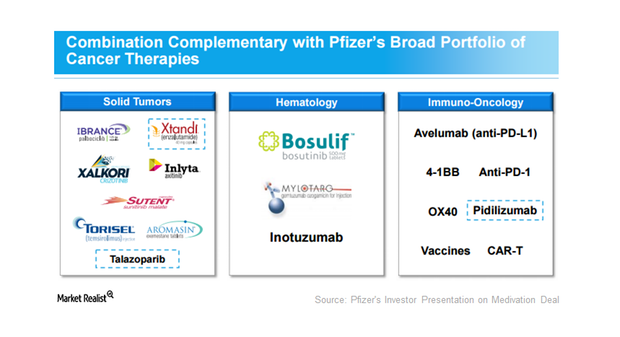 What's the Story behind the Pfizer-Medivation Deal?
Will there be more M&A in 2H16?
Medivation (MDVN) was chased by many big pharmaceuticals. However, Sanofi (SNY) was the one that made the first move. Sanofi offered Medivation $52.5 per share on April 28, 2016. This was an all-cash transaction value of $9.4 billion.
On the next day, Medivation declined the proposal due to significant undervaluation. Later, Sanofi tried for a hostile takeover attempt. On July 5, Sanofi informed Medivation that following a confidentiality agreement it would raise the offer to $58 per share in cash and $3 per share in a contingent value right related to the performance of Talazoparib sales.
However, on August 22, the drama came to end when Pfizer (PFE) offered $14 billion to Medivation. For details on the Pfizer-Medivation deal, read Pfizer's Medivation Acquisition: What You Need to Know.
Article continues below advertisement
Medivation's portfolio complements Pfizer
Medivation's portfolio complements Pfizer's existing oncology portfolio that includes solid tumors, hematology, and immunology-oncology. Medivation's Xtandi and Talazoparib fit in Pfizer's solid tumor franchise, while Pidilizumab would be an addition to Pfizer's immuno-oncology portfolio. Read Will the Current Pipeline Help Medivation Go beyond Xtandi? for details on pipeline candidates Talazoparib and Pidilizumab.
Xtandi is Medivation's key drug—it's used by both oncologists and urologists. For details on the drug, read Medivation Sees Growth in Xtandi: A Major Oncology Drug.
For exposure to major pharmaceutical companies such as Merck (MRK), AbbVie (ABBV), and AstraZeneca (AZN), investors can consider the VanEck Vectors Pharmaceutical ETF (PPH).
In the next part, we'll discuss how Ibrance and Xtandi will likely a major success for Pfizer.