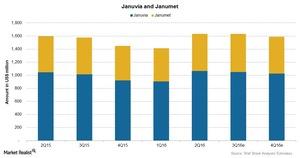 What Are Merck's Key Diabetes Products?
Januvia and Janumet
Januvia and Janumet are two blockbuster drugs in Merck's (MRK) diabetes franchise. These drugs are used to lower blood sugar levels in patients with type 2 diabetes. The combined sales for these drugs were ~$1.63 billion for 2Q16, a 2% growth as compared to $1.60 billion for 2Q15.
Article continues below advertisement
Article continues below advertisement
Why are these drugs important?  
Januvia and its combination version, Janumet, are drugs classified as DPP-4 inhibitors. DPP-4 is an enzyme that removes incretin from the human body in normal cases for people without type 2 diabetes. However, people with type 2 diabetes require these DPP-4 inhibitors in order to prevent low blood sugar and weight gain.
Januvia has a very high market share in Japan, as DPP-4 inhibitors have more patient days of therapy than other treatments, and Japan has always been a very fast uptake market for DPP-4 usage.
The competitors for Januvia and its combination version, Janumet, are Onglyza, jointly made by Bristol-Myers Squibb (BMY) and AstraZeneca (AZN), and Galvus from Novartis (NVS). Recently, the American Diabetes Association confirmed Januvia's high safety profile and its lack of risk of major adverse cardiovascular events or hospitalization for heart failure.
Apart from Januvia, Merck has received marketing authorization for Marizev in Japan. Marizev is a once-weekly DPP-4 inhibitor. Merck is in the process of filing for Omarigliptin, the generic name of Marizev in the US. Marizev is limited to a two-week prescription at present. However, this limit will be removed, and Marizev is expected to be a blockbuster drug in DPP-4 class.
Contribution of Januvia and Janumet  
Januvia and Janumet together contributed about 18.8% of total pharmaceutical revenues for 2Q16, which is nearly flat as compared to 2Q15 in terms of contribution.
In terms of contribution towards total revenues, Januvia and Janumet contributed about 16.6% of total revenues during 2Q16. Further, these drugs are expected to contribute $1.62 billion for 3Q16 and $1.59 billion for 4Q16.
Investors can consider ETFs like the SPDR S&P Pharmaceutical ETF (XPH), which holds 4.7% of its total assets in Merck.