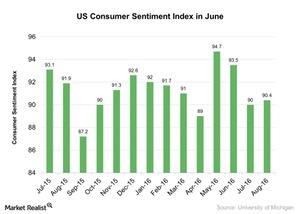 Consumer Sentiment Index Rose: What It Means for the Economy
By Sarah Sands

Aug. 17 2016, Updated 9:05 a.m. ET
US consumer sentiment index
According to a report from the University of Michigan, the US consumer sentiment index has improved in August 2016. It stood at 90.4 in August 2016 as compared to 90 in July. The reading in August was far below the market expectations of 91.5.
The consumer sentiment index focuses on three areas:
What are consumers' views of their own financial situation?
How do consumers view the general economy over the short term?
How do consumers view prospects for the economy over the long term?
Article continues below advertisement
Impact on the economy
The improvement in the consumer sentiment index is a positive sign for the economy. The US consumer sentiment index improved in August as compared to July, which indicates that consumers' overall situation is improving. The increase in per capita income is a welcome sign for the economy (SPXL) (IWM). The labor market also showed improved figures in June and July 2016. An improvement in the labor market conditions will speed up consumer spending in the economy (VFINX) (VOO) (SPY) in the near future.
The improvement in this index also indicates that consumers' long-term view of the economy (IWF) (QQQ) is improving. The Fed is also hinting at a gradual rate hike process in the coming years. Interest rate hikes are appropriate when the economy is on a stronger path. According to the consumer sentiment index, the long-term path for the economy is improving, so it's more likely the Fed could tighten interest rates.
In the next part of this series, we'll analyze the performance of the Eurozone Sentix Investor Confidence Index in August 2016.