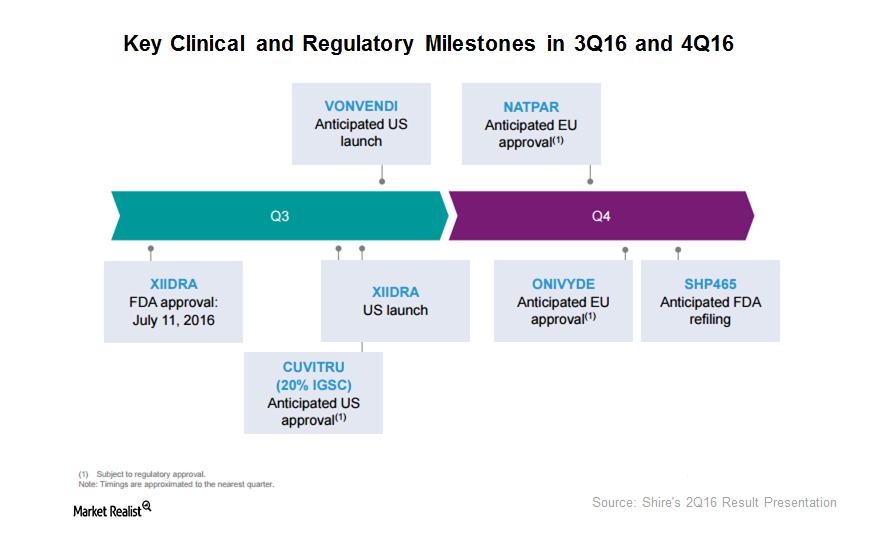 An Update on Shire's Upcoming Milestones
Shire's pipeline with launches in 3Q16
Following Shire's (SHPG) acquisition of Baxalta, the combined company holds more than 40 programs in clinical development. For details on Shire's pipeline, please read How Shire's Robust Pipeline Could Drive Its Valuation.
On July 11, 2016, Xiidra (lifitegrast ophthalmic solution) received FDA (U.S. Food and Drug Administration) approval for the indication of dry eye disease. The company plans to launch the eye drop in the United States in 3Q16.
In 3Q16, Shire also plans to launch Vonvendi in the United States. The drug was developed by Baxalta for the indication of von Willebrand disease (or VWD) in adults aged 18 years and older. VWD is the most common type of inherited bleeding disorder and affects ~1% of the US population.
Article continues below advertisement
Article continues below advertisement
Other companies that operate in the rare disease space include Alexion (ALXN), BioMarin (BMRN), and Genzyme, a subsidiary of Sanofi (SNY).
Shire anticipates securing FDA approval for Cuvitru in 3Q16. Shire gained Cuvitru after the Baxalta acquisition. The product is a subcutaneous immunoglobulin for treating primary immunodeficiency disorders.
Milestones in 4Q16
Shire anticipates receiving European Union approval for Natpara for the indication of hyperparathyroidism in 4Q16. For details on how the drug came to Shire, you can read Shire's Acquisition Gives It Natpara and Gattex.
Shire expects Onivyde to win approval from the European Union in 4Q16 for the indication of pancreatic cancer. If approved, this would present an addition to Shire's oncology portfolio, which currently holds only Oncaspar.
SHP465 is a neuroscience portfolio drug indicated for ADHD (attention-deficit/hyperactivity disorder). Shire plans for a class-two submission for the drug in 4Q16. If approved by 2Q17, it might be launched in the second half of 2017.
To get exposure to Shire and control excessive company-specific risks, investors can choose to invest in the PowerShares International Dividend Achievers ETF (PID). Shire accounts for 0.14% of the fund's total holdings.
Continue to the next part of the series for an update on analyst recommendations for Shire.