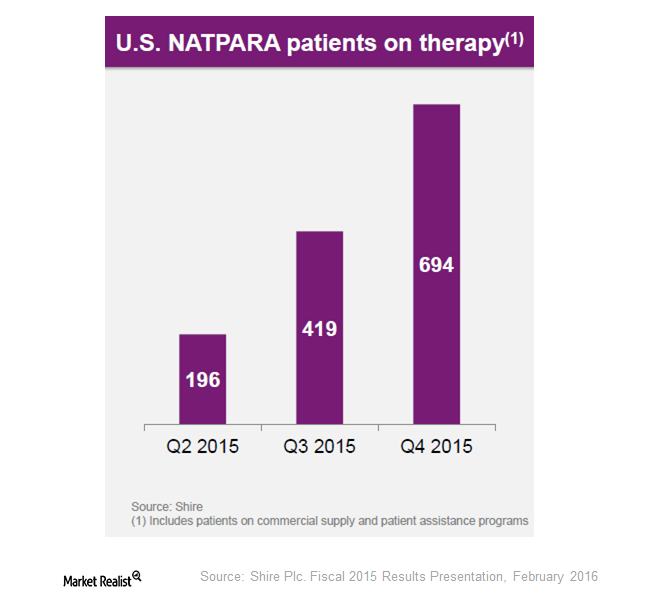 Shire's Acquisition Gives It Natpara and Gattex
Natpara for hypoparathyroidism
Following the acquisition of NPS Pharmaceuticals, Shire (SHPG) gained access to Natpara and Gattex.
Natpara is a recombinant parathyroid hormone indicated for hypoparathyroidism. The drug was launched in the United States in April 2015. Currently, the drug is under the registration phase in the EU (European Union). The company might receive approval for the drug from the EU by the third quarter of fiscal 2016.
Patients on Natpara therapy in the United States increased to 694 in the fourth quarter of 2015, from 419 in 3Q15. That's a 66% quarterly growth in the number of patients under the drug therapy. The drug's potential annual peak sales could amount to $250 million.
Article continues below advertisement
In the United States, ~75,000 patients suffer from hypoparathyroidism. That number is 41,000 in France, Germany, the United Kingdom, Italy, and Spain. Hypoparathyroidism is the most common cause of hypocalcemia, or low calcium levels in the blood. To control and maintain calcium levels in patients, Natpara is administered along with calcium and vitamin D.
Gattex/Revestive for short bowel syndrome
Gattex is the first and only analog of glucagon-like peptide-2 (or GLP-2) indicated for short bowel syndrome. The drug is known as Gattex in the United States and Revestive in Europe.
Short bowel syndrome is a rare gastrointestinal condition that results from a large resection of the small intestine. This keeps the body from absorbing sufficient nutrients, fluids, and electrolytes.
Gattex acts by stimulating growth of the intestinal lining. It increases absorption by the remaining bowel and decreases or eliminates the need for parenteral support.
The annual cost per patient for Gattex is ~$295,000. Since Gattex is a drug for an orphan disease, Shire priced the drug higher. Other orphan drugs include BioMarin Pharmaceutical's (BMRN) Naglazyme and Vimizim, and Alexion Pharmaceuticals' (ALXN) Soliris. Mallinckrodt's (MNK) Acthar is another orphan drug that costs more than $200,000 annually per patient.
To get exposure to Shire and control excessive company-specific risks, you can invest in the PowerShares International Dividend Achievers ETF (PID). Shire accounts for 0.13% of PID's total holdings.
In the next part of the series, let's see how Vyvanse could help Shire's ADHD portfolio.