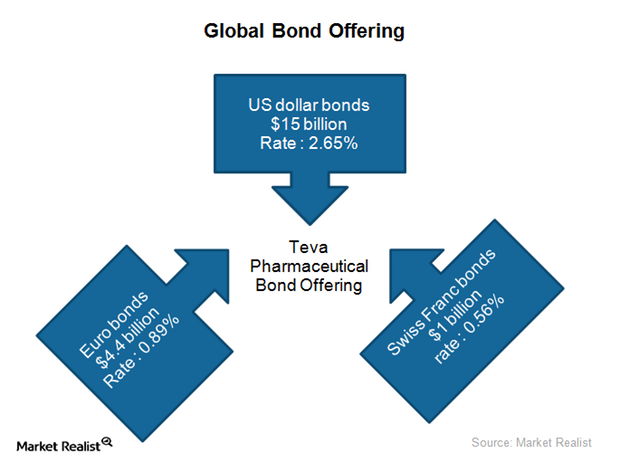 Teva Pharmaceutical: A Successful Bond Financing Program in 2016
By Margaret Patrick

Aug. 22 2016, Updated 11:04 a.m. ET
Bond financing program
To finance the acquisition of Allergan Generics (AGN), Teva Pharmaceutical (TEVA) successfully completed a global bond offering on July 21, 2016. This enabled the company to reduce its total cost of borrowing from 3.0% to 2.3%.
Excluding the cost of bond offering as well as hedging, Teva's cost of borrowing is only 2.2%. The successful bond offering program has thus helped create additional value for Teva Pharmaceutical shareholders.
Article continues below advertisement
Teva has managed to raise $20.4 billion in US dollar bonds, euro bonds, and Swiss franc bonds. These bonds are distributed across 14 trenches and have an overall interest rate of 2.2%. With an average duration of 8.7 years, the company managed to secure financing for one year longer than previously projected.
The success of the bond offering is mainly attributed to robust demand for the company's bonds, which was many times greater than the overall offering. This was reflected in lower borrowing rates for the BBB rated bonds, which was equivalent to those commanded by A- bonds.
A lower cost of borrowing may boost Teva Pharmaceutical's share prices as well as those of the PowerShares International Dividend Achievers ETF (PID). Teva makes up about 0.96% of PID's total portfolio holdings.
Lower financing needs
Teva Pharmaceutical has managed to generate $2.9 billion from divestitures required for the acquisition of Allergan Generics. These proceeds are significantly higher than the $400 million that Teva originally expected.
The company also plans to earn $1 billion from working capital adjustments as well as the sale back of certain assets to Allergan. Based on these adjustments and Allergan's current share price, the total net deal value is reduced to $35.1 billion from the originally announced $40.1 billion. Teva will thus have to borrow around $23 billion for the deal instead of the original estimate of $27 billion.
With lower borrowing needs, the Teva–Allergan Generics transaction is expected to be even more attractive. The new Teva Pharmaceutical after the merger with Allergan Generics is expected to pose strong competition to peers such as Mylan (MYL), Perrigo (PRGO), and Akorn (AKRX).
In the next part, we'll analyze Teva Pharmaceutical's revenue growth prospects for 2016.