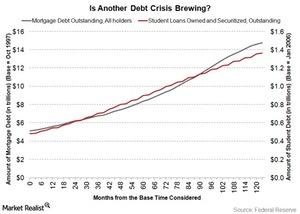 Is Student Debt the Next Bubble to Hit the US Economy?
An emerging risk
Hedge fund billionaire and activist investor Bill Ackman believes student loans are the biggest risk in the credit market. He said, "If you think about the trillion dollars of student loans we have outstanding, there's no way students are going to pay it back."
The aggregate amount of student debt in the US financial (XLF) system has been rising at a very rapid pace. It reached a whopping $1.3 trillion as of April 2016. Is there cause for alarm? Here's Market Realist's look under the hood on this issue.
Article continues below advertisement
Could student debt be the next bubble to hit the US economy?
Many are likening the current student debt situation in the United States to the mortgage debt situation that led to the 2009 financial meltdown in the US economy (SPY) (QQQ) (IWM).
Agreed! The amount of aggregate student debt currently in the system is about a tenth of the amount of mortgage debt held at the verge of the financial crisis. But look at the pace. Over the decade preceding the sub-prime crisis, aggregate mortgage debt (MBB) in the United States rose about 190%, from $5.1 trillion in October 1997 to $14.8 trillion by April 2008. Student debt stood at $0.48 trillion a decade ago in January 2006. It's now at a staggering $1.4 trillion as of April 2016. That's a rise of 183% over the decade.
In this series
In this series, we'll provide answers to the following questions pertaining to the student debt story:
How has the financialization of education led to a highly levered financial system?
Why has college education gotten so expensive in the United States?
Do rising student loan delinquencies spell trouble for the US economy?
Why could smaller-ticket student loans matter more from a risk perspective?
Millennials versus Baby Boomers: Who does the student debt crisis affect more?
Why has student debt become one of the key issues in the US presidential campaign?
Why does the White House believe that rising student debt is good for the US economy?
How does the student debt crisis resemble and differ from the mortgage debt crisis?
Could a change in trend mitigate the risk posed by student debt levels in the United States?