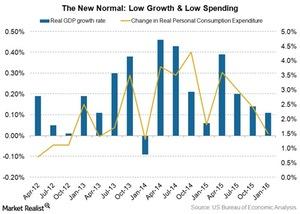 Bill Gross's Views on Growth and Inflation
All assets are bets on real growth
According to Bill Gross, all assets are bets on real growth in an economy. Nominal growth plus inflation provides the required return on investment. Nominal growth is important, as it facilitates the allocation of the increase in income towards the servicing of debt, interest expense, and principal repayments. Without nominal growth, the economy would collapse.
Article continues below advertisement
Growth has become rare
Gross believes that money has stopped generating growth and inflation. Equity prices are artificially elevated, and negative yields are guaranteeing capital losses. Gross has highlighted the growth stagnation that the world economy (ACWI) (VEU) (VXUS) (VT) is facing currently, and has identified aging demographics and debt overload as structural elements that are keeping the economy in low gear.
Growth has become a rare commodity while spending seems to be stuck in low gear. Earlier, Gross has been repeatedly mentioning a "new normal" that the developed world seems to be in. Real GDP (gross domestic product) growth is around 2% in the US. It used to easily hover around 4%–5% a decade ago.
The new normal
It's important to note that 2% real GDP growth seems to be characteristic of the "new normal" economy.
However, in the current market environment, even nominal growth seems hard to come by. In his August 2016 outlook, Gross has identified that nominal GDP growth needs to be at 4%–5% in the US (SPY), at 3%–4% in Europe (VGK) (FEZ), and at 2%–3% in Japan (EWJ) (HEWJ).