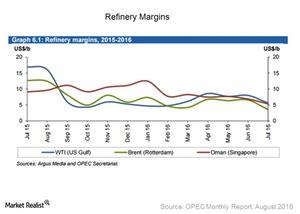 Oil Supply and Refinery Margins Concern Crude Tankers
Oil production
Crude oil production has gradually fallen since the beginning of 2016. The decline in production is mainly from the non-OPEC (Organization of the Petroleum Exporting Countries) side. Non-OPEC production in 2Q16 was 55.57 MMbpd (million barrels per day)—down from 57.5 MMbpd in the same period last year. On the other hand, OPEC's oil production rose to 32.7 MMbpd from 31.14 MMbpd. However, the overall oil production has decreased.
Article continues below advertisement
Oil production and the crude tanker industry
When oil supply decreases, it has a negative impact on crude tanker rates because the demand for spot cargoes diminishes. So, higher oil supply is usually positive for the tanker industry and vice versa.
Oil production forecasts
According to the U.S. Energy Information Administration, in 2016 the total world production is estimated to fall by 0.38 MMbpd. In 2017, the production is expected to increase. This could benefit the crude tanker market.
Article continues below advertisement
Refinery margins
Refinery margins have fallen throughout most of the world. US Gulf refinery margins for West Texas Intermediate crude lost more than $2 compared to the previous month's level. The margins averaged around $6 during July 2016, according to OPEC's monthly report. In the same month, Brent crude oil in northwest Europe reported a loss of ~$3 compared to the previous month. It averaged $3.5 per barrel, according to OPEC's monthly report. Refinery margins in Asia have also fallen.
Refinery margins and crude tankers
When refining margins improve, refineries are encouraged to increase their utilization and import more crude oil and vice versa. Higher crude oil (DBO) imports mean higher tanker demand.
Lower oil supply and declining refinery margins are reasons for the current fall in tanker rates. This had a negative impact on companies like Frontline (FRO), Nordic American Tankers (NAT), Teekay Tankers (TNK), Euronav (EURN), DHT Holdings (DHT), and Tsakos Energy Navigation (TNP).