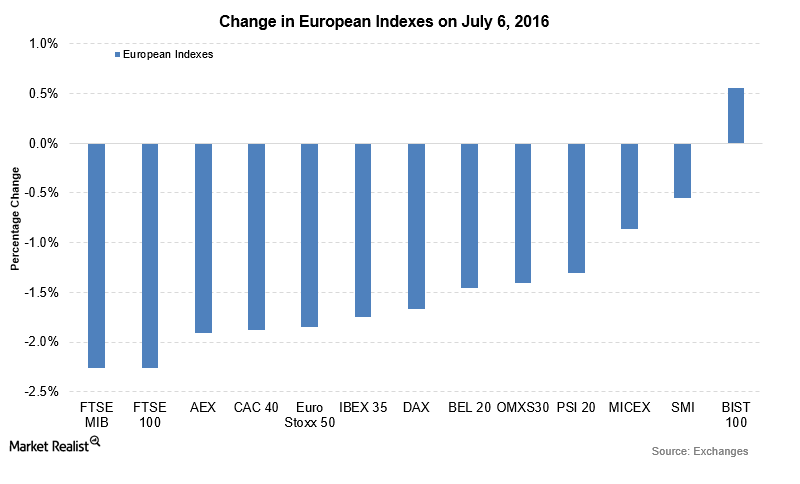 Weak Data Puts Downward Pressure on European Indexes
<p>On July 6, major European indexes were trading lower for the second day. The fall in the indexes was led by the Italian FTSE MIB and the UK-based FTSE 100. </p>
German factory below forecast
Destatis published the month-over-month manufacturing factory orders for May on July 6, 2016. The new orders remained unchanged against the forecast of a rise of 1% after a dismal 1.9% fall in the previous month. Domestic orders fell by 1.9% in May. However, this was offset by the 1.4% rise in foreign orders. The rise in foreign orders was primarily attributed to the rise in new orders from the Eurozone which rose by 4%, while new orders from other countries decreased by 0.3% in May.
Intermediate goods fell 2.9%, while capital goods rose by 1.9%. This kept the overall orders unchanged in terms of value. The fall in orders saw a similar reaction in European indexes—the WisdomTree Europe Hedged Equity ETF (HEDJ) fell by 0.43%.
Article continues below advertisement
Article continues below advertisement
Spanish industrial production
Spanish (EWP) industrial production rose by 1.0% on a year-over-year basis—compared to the forecast of a rise of over 2.0%. Among other major European macro data, the Swedish Central Bank—the Riksbank—decided to leave the key rates unchanged at -0.5%. The central bank commented that the impact of the Brexit vote on the economy has been limited so far. Swedish (EWD) inflation stayed below the central bank's target of 2.0% as it decelerated by 0.6% in May.
European indexes broadly lower
On July 6, major European (VGK) indexes were trading lower for the second straight day. The fall in the European indexes was led by the Italian FTSE MIB (EWI) and the UK-based FTSE 100. Both of them fell by 2.3%. Looking at the performance of United Kingdom-based ETFs, the iShares MSCI United Kingdom ETF (EWU) fell by 0.87%.
Other European markets were also trading on a negative bias. The ETFs that were initially on a negative trajectory had a slight bounce back towards the end of the day. The Deutsche X-trackers MSCI EAFE Hedged Equity ETF (DBEF) fell by 0.20%, while the Vanguard FTSE Developed Markets ETF (VEA) remained flat.