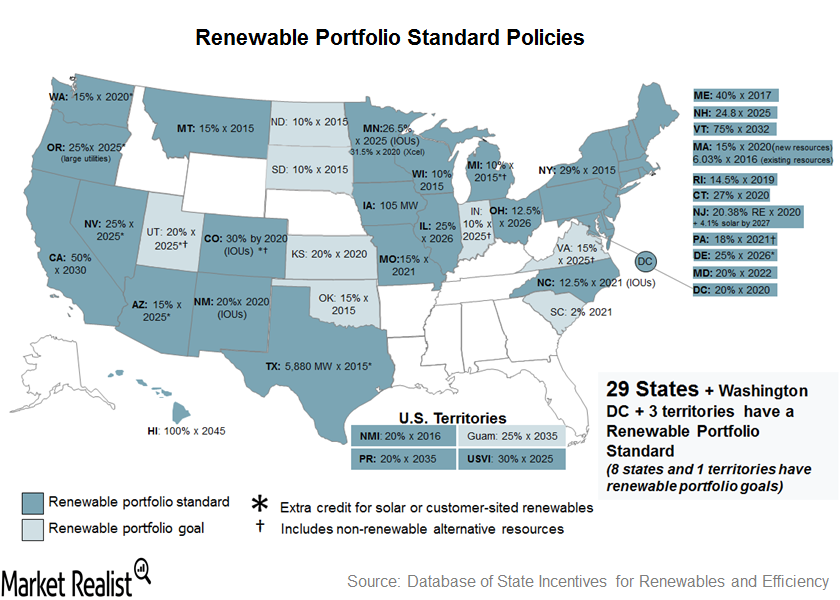 What Are Yingli Solar's Key Performance Drivers?
By Sheldon Krieger

Dec. 4 2020, Updated 10:53 a.m. ET
Key performance drivers
Government incentives such as ITCs (investment tax credits) in the US and feed-in tariffs in China, anti-dumping duties of exporting countries, environment regulations, seasonal changes in energy demand, and cost factors are among the biggest performance drivers that affect Yingli Solar (YGE).
Additionally, RPS (renewable portfolio standards) and net metering systems are some of the crucial factors that could indirectly affect the performance of Yingli Solar in the US. RPS provides an incentive in the form of SREC (Solar Renewable Energy Certificates) to generate solar (TAN) power.
Article continues below advertisement
Yingli Solar's cost factors
Yingli Solar's cost performance mainly depends on the price of its key raw material, polysilicon, which is used in the manufacturing of solar modules. According to the company's latest annual filings, the polysilicon prices increased from $14 per kilogram in November 2012 to an average of $20 per kilogram in May 2016. As the polysilicon market is highly concentrated, any further increase in polysilicon prices could have a negative impact on Yingli Solar's profit margins. An increase in prices could also affect Yingli Solar's peers SunEdison (SUNEQ), Canadian Solar (CSIQ), Trina Solar (TSL), and SunPower (SPWR). To reduce the cost of polysilicon, Yingli Solar uses a mix of high-purity polysilicon and lower-purity polysilicon.
Other major costs include toll manufacturing costs, overhead, and direct labor costs.
The impact of weather
Of course, seasonal variation in weather conditions can affect Yingli Solar's revenue and shipment targets. Adverse weather conditions and extreme winters, for example, can delay the beginning of operations and negatively affect the company's operating results. Also, seasonal variation in demand linked to construction cycles could result in a wide variation in the company's financial results.
In the next part of this series, we'll analyze Yingli Solar's business strategy.