Alaska Air: Why Analysts Forecast Higher Revenue in Next 2 Years
For 2Q16, analysts are estimating 4.2% revenue growth for Alaska Air Group (ALK), which is slower than the 6.2% growth in 1Q16.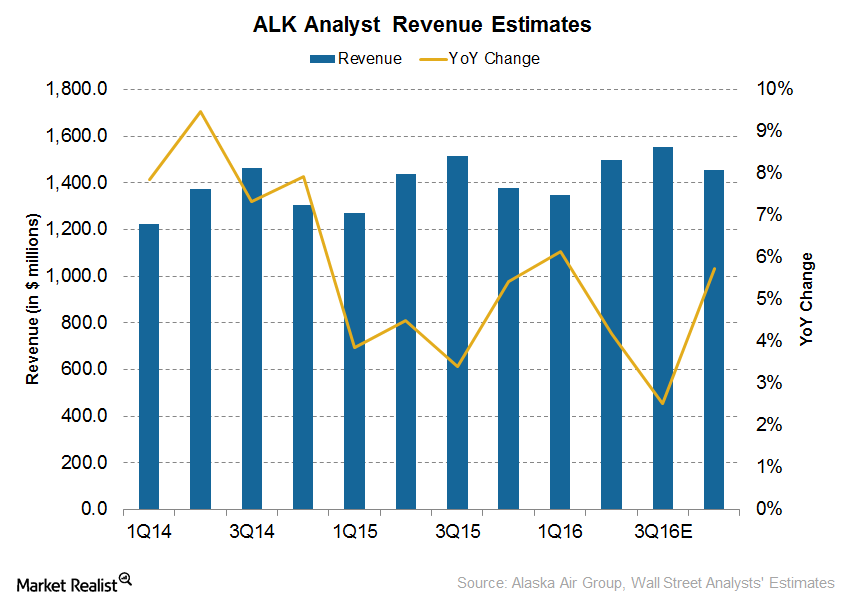 Analyst estimates for Alaska Air
It's important to look at analyst estimates since they're an effective first screener for investors. They also act as a proxy for what's being priced into the stock.
For 2Q16, analysts are estimating 4.2% revenue growth for Alaska Air Group (ALK), which is slower than the 6.2% growth in 1Q16. The growth rate is expected to slow down more to 2.5% in 3Q16 and then increase 5.7% in 4Q16. This will lead to a full year revenue growth of 4.5% for 2016. Analysts expect revenue growth to increase to 9% and 12.4% for 2017 and 2018, respectively.
Key factors supporting analyst estimates are global economic growth and Alaska Air's network expansion to previously unserviced markets. Falling passenger yields may dampen growth.
Article continues below advertisement
Article continues below advertisement
Passenger demand
Passenger travel demand had a great start in 2016, increasing approximately 7% year-over-year (or YoY), the highest since 2012. However, IATA (International Air Transport Association) suspects that the industry might be at the end of the traffic boost phase provided by low oil prices. This suggests that travel demand may slow down, which will adversely impact airlines.
For a complete analysis, read Will Airline Industry Demand Rise for the Remainder of 2016?
Capacity expansion
Alaska Air plans to add capacity in markets where it sees strong, unfulfilled demand coupled with higher margins. In fact, ALK has seen better demand from new routes being continually added to its network.
Yields fall
Traffic growth hasn't kept pace with capacity growth, and load factors have declined. This along with falling fuel surcharge revenues for airlines pressured passenger yields. To know about this in detail, you can read Your Guide to Alaska Air Group's June 2016 Performance.
Alaska Air's key growth factors still remain its focus on higher ROIC (return on invested capital) markets, natural revenue streams, and new aircraft types.
Investors can gain exposure to airlines through the iShares Transportation Average ETF (IYT). IYT holds 5.4% in Alaska Air (ALK), 4.7% in United Continental (UAL), 4.3% in Delta Air Lines (DAL), 3.9% in Southwest Airlines (LUV), 3.6% in American Airlines (AAL), and 1.9% in JetBlue Airways (JBLU).
Alaska Air forms a 0.53% of the SPDR Russell 1000 Momentum ETF (ONEO).