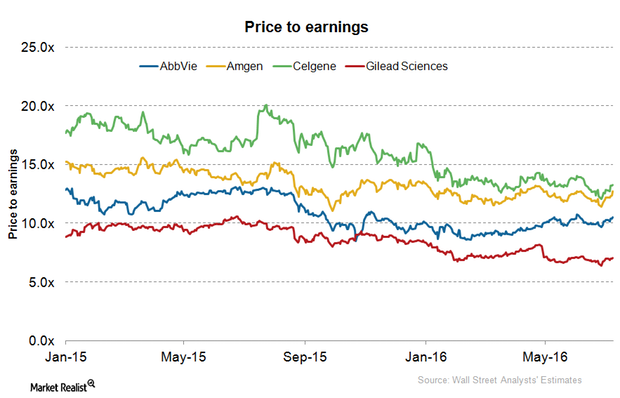 Why Is AbbVie's Valuation Multiple Rising in July?
Rise in valuation multiple
Following a strong sell-off in the first half of June 2016, AbbVie is witnessing a gradual rise in its share price in July 2016. Investors were disappointed with the clinical trial results for Rova-T, presented at the 52nd Annual Meeting of the American Society of Clinical Oncology, or ASCO. While the drug displayed strong efficacy compared to the standard of care for SCLC (small cell lung cancer), it failed to surpass combination therapy based on immuno-oncology drugs nivolumab and ipilimumab in terms of one-year overall survival rate.
Article continues below advertisement
Article continues below advertisement
However, AbbVie believes that the Market has misunderstood the growth potential of Rova-T, which is expected to earn $1.5 billion–$2 billion in peak sales even under extremely conservative assumptions. As investors continue to incorporate these projections into their expectations, AbbVie's share price may continue to rise in 2016. To learn more about Rova-T's potential, read Why AbbVie Expects Rova-T to See Big Peak Sales.
Currently, AbbVie (ABBV) and Gilead Sciences (GILD) are trading at lower valuation multiples than their peers Amgen (AMGN) and Celgene (CELG). However, as share prices continue to rise, AbbVie is expected to see a strong rise in its PE (price-to-earnings) ratio in the second half of 2016. This may also benefit the iShares Core S&P 500 ETF (IVV). AbbVie makes up about 0.56% of IVV's total portfolio holdings.
Drug discovery platform
In addition to investigational drug Rova-T, the Stemcentrx acquisition is expected to add to AbbVie's drug discovery capabilities. AbbVie expects that Stemcentrx's unique cancer stem cell–based drug discovery platform will enable the company to develop novel therapies with higher efficacy and at a much faster pace. To learn more about Stemcentrx's drug discovery platform, read Can Stemcentrx's Cancer Stem Cell Technology Really Accelerate Innovation for AbbVie?
In the next article in this series, we'll analyze why the Market misunderstood Rova-T's growth potential after the ASCO meeting in 2016.