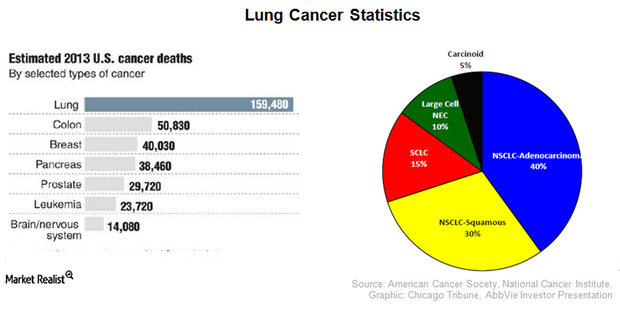 Why AbbVie Expects Rova-T to See Big Peak Sales
Peak sales
AbbVie (ABBV) has projected that RovalpituzumabTesirine, or Rova-T, a DLL3-targeted antibody conjugate, which was acquired through the acquisition of Stemcentrx, will earn $5 billion in peak sales. Based on models, analysts estimate the maximum annual revenues that a drug can earn in its life cycle and refer to this as "peak sales."
The Stemcentrx acquisition is expected to help AbbVie pose tough competition to other oncology players such as Celgene (CELG), Merck (MRK), and Eli Lily (LLY).
Article continues below advertisement
Lung cancer opportunity
The above diagram shows the number of deaths by various cancer subtypes in 2013, with lung cancer accounting for the highest percentage of deaths. With a five-year survival rate of only 18% for lung cancer patients, the statistic highlights the need for more effective drugs in this field. Rova-T is expected to become an effective drug for SCLC (small cell lung cancer). About 15% of all lung cancer patients are diagnosed with SCLC, which is generally a difficult form of lung cancer to treat.
According to AbbVie's Investor presentation, approximately 540,000 people in the developed markets of US, EU, and Japan are annually diagnosed with lung cancer. Around 81,000 of these people are afflicted by SCLC. There are about 1,825,000 people diagnosed with lung cancer across the world, of which 274,000 people are affected by SCLC. The market opportunity for Rova-T is further underlined by the low survival rate, which is only 3%.
According to AbbVie's 1Q16 conference call, "DLL3 is the first predictive biomarker associated with drug efficacy in small cell lung cancer. It is highly expressed in a majority of small cell lung cancer tumors as well as cancer stem cells and is not expressed in normal tissue. Predictive biomarkers help identify which patients have the potential to benefit from a therapy."
Significant market opportunities coupled with a strong drug profile is expected to make Rova-T a leading SCLC drug. AbbVie makes up about 0.95% of the iShares Russell 1000 Growth ETF (IWF).
Now let's analyze how the current standard of care for SCLC presents a strong opportunity for Rova-T.