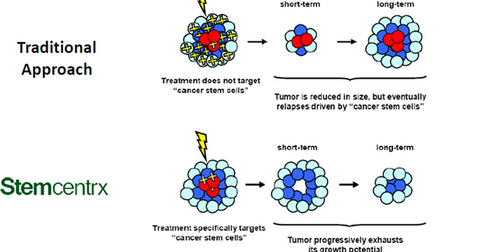 Can Stemcentrx's Cancer Stem Cell Technology Really Accelerate Innovation for AbbVie?
By Margaret Patrick

Updated
Cancer stem cell technology
The acquisition of Stemcentrx has added CSC (cancer stem cell) technology platform to AbbVie's (ABBV) oncology portfolio. According to AbbVie's R&D Day presentation, "Cancer stem cells are the cells that are responsible for the initiation, progression, and spread of tumors."
The majority of oncology drugs available in the market help in shrinking tumors but do not target these cancer stem cells and hence do not help in increasing survival rates for patients. Stemcentrx has been focused on developing therapies that identify the cancer stem cells, then destroying them. So the acquisition is expected to help AbbVie develop multiple drugs that target a variety of solid tumors.
Notably, AbbVie makes up about 0.53% of the SPDR S&P 500 ETF (SPY).
Article continues below advertisement
Research capabilities
To accelerate its oncology research, Stemcentrx has maintained a large PDX (patient-derived xenograft) tumor bank made up of human tumors grown in mice. Covering more than 21 indications and 706 PDX tumors, this tumor bank has enabled Stemcentrx to analyze cancer subtypes, cancer stem cells for these sub-types, and patient heterogeneity corresponding to these subtypes.
The company uses proteomic and genetic tools as well as bioinformatics software and other information technology tools for its CSC research. This unique platform has resulted in more than 110 molecules in the discovery and validation phase, in addition to five drugs targeting small cell lung cancer, non-small-cell lung cancer, triple-negative breast cancer, and ovarian cancer in various phases of the clinical trial process.
The acquisition of Stemcentrx will enable AbbVie to develop targeted therapies based on these insights and ultimately to diversify its revenue base by 2018, which should result in high earnings per share growth after 2020. For this reason, AbbVie is expected by some to pose tough competition to other oncology players such as Amgen (AMGN), Celgene (CELG), and Merck (MRK).
Now let's explore Stemcentrx's leading drug, Rova-T, in greater detail.