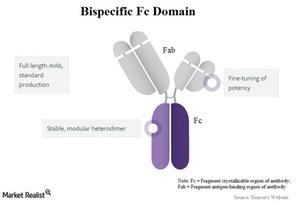 What Is Xencor's XmAb Technology?
Xencor's XmAb technology
As discussed, Novartis (NVS) and Xencor (XNCR) announced a collaborative agreement on June 28, 2016, for codeveloping two bispecific antibodies based on XmAb technology. What is XmAb technology all about?
Article continues below advertisement
How does XmAb technology work?
The XmAb antibody engineering platform is Xencor's proprietary technology. It creates precise alterations in the fragment crystallizable (or Fc) region of an antibody. The Fc region, which interacts with receptors and proteins, is referred to as the stem of the structure responsible for activating the immune system.
The company has designed changes at two typical locations in the antibodies in such a way that the drug candidates designed are nearly identical to natural antibodies, maintaining a similar structure and sequence. This leads to the retention of stability and other natural properties in the engineered antibodies. The company has created four XmAb Fc products: Bispecific Fc Domain, Immune Inhibitor Fc Domain, Cytotoxic Fc Domain, and Xtend Fc Domain.
Its partnerships include the following:
Novartis uses XmAb Bispecific Fc Domain for XmAb 14045 and XmAb 13676, as well as for the development of new molecules from its four additional programs
Amgen (AMGN) uses Bispecific Fc Domain for six programs in immuno-oncology and inflammation
Novo Nordisk (NVO) uses both Bispecific Fc Domain and Immune Inhibitor Fc Domain for the development of new molecules
Janssen, a Johnson & Johnson (JNJ) company, uses Cytotoxic Fc Domain and Xtend Fc Domain for improving the performance of its monoclonal antibodies
Merck (MRK) uses XmAb technology to enhance the performance of compounds in phase I clinical trials
MorphoSys has worldwide rights for the XmAb 5574 (renamed MOR208) antibody, and it uses Cytotoxic Fc Domain to develop new oncology compounds
Boehringer Ingelheim uses Cytotoxic Fc Domain to improve the potency of two compounds under development
CSL Group uses Cytotoxic Fc Domain for the enhancement of an antibody under development
Alexion uses Xtend Fc Domain to enhance the half-life of antibodies under development
To divest risk, investors could consider ETFs such as the PowerShares Zacks Micro Cap Portfolio ETF (PZI), which has a ~0.2% exposure to Xencor, or the PowerShares International Dividend Achievers ETF (PID), which has a 1.1% exposure to the company.