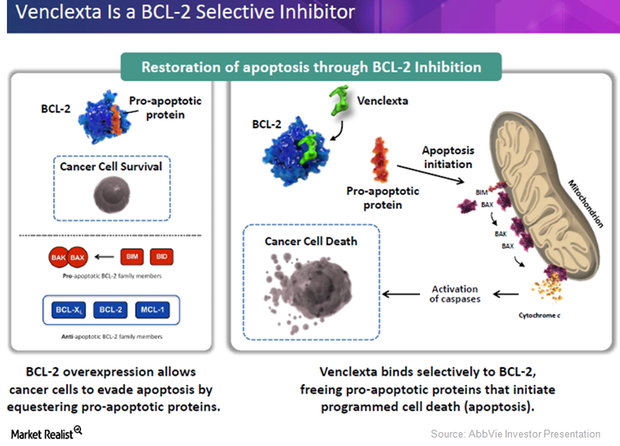 Venclexta: The First BCL-2 Inhibitor Cancer Therapy to Be Approved by the FDA
Venclexta therapy
On April 11, 2016, Venclexta became the first BCL-2 inhibitor therapy to be approved by the FDA (US Food and Drug Administration) for CLL (chronic lymphocytic leukemia) patients with 17p deletion. The drug is based on AbbVie's (ABBV) extensive research in the field of apoptosis, which plays a pivotal role in normal tissue development and tumor development in cancer.
According to AbbVie's recent investor presentation, "Ability to evade apoptosis (programmed cell death) is a hallmark of cancer." Since the large production of BCL-2 proteins is a key factor in preventing apoptosis, Venclexta works by inhibiting the BCL-2, which subsequently leads to the death of tumor cells.
Article continues below advertisement
Article continues below advertisement
Breakthrough therapy designation
In addition to being a monotherapy for CLL with 17p deletion, Venclexta has been granted Breakthrough Therapy designation as a combination therapy with Rituxan for treating CLL patients who witness disease progression despite other therapies and for AML (acute myeloid leukemia).
As a single agent therapy, in its phase-3 clinical trial, Venclexta managed to report 80% ORR (overall response rate) in CLL patients with 17p deletion. This consisted of a 73% partial response rate and a 7% complete response rate. Among complete response patients, 3% also managed to demonstrate negative MRD (minimal residual disease), and 10% of partial response patients reported negative MRD. MRD negatively is a strong indicator of long-term responses in CLL patients. According to AbbVie's investor presentation, negative MRD means there are "no detectable CLL cells in the patients' bone marrow."
Relapsed or refractory CLL
In the phase-1 dose-escalation study of patients with relapsed or refractory CLL, Venclexta managed to report ORR of around 79%, consisting of 59% partial responses and 20% complete response rates. AbbVie is also currently involved in studying the impact of a combination therapy of Venclexta with Rituxan in further improving ORR and in reducing MRD for CLL patients.
Based on the strong clinical profile of Venclexta, AbbVie expects to pose strong competition to other hematologic oncology players such as Novartis (NVS), Celgene (CELG), and Amgen (AMGN). If the drug manages to become a commercial success, AbbVie could witness a positive impact on its share prices. Notably, the SPDR S&P Dividend ETF (SDY) has about 1.5% exposure to AbbVie.
Now let's explore AbbVie's efforts to expand its approved labels for Venclexta.