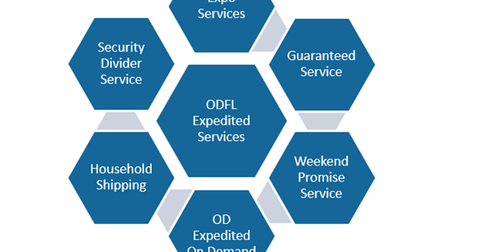 An Investor's Guide to Old Dominion's Expedited Services
By Samuel Prince

Updated
Expedited services
Old Dominion Freight Line's (ODFL) Expedited Services include high-value, time-sensitive deliveries. The company provides guaranteed services for high level, top priority shipments within its system. It also allows online tracking of shipments to clients.
ODFL's Air Services business has a dedicated channel to render clients with completely customized door-to-door air service deliveries. Old Dominion's Speed Service Air is also available to and from China. The company also informs clients of transit times between origins and destinations in the US and Canada.
Article continues below advertisement
Weekend Promise Service
ODFL's Weekend Promise service offers guaranteed delivery, featuring Friday-to-Monday service to and from 95% of the continental US. The company offers guaranteed delivery by 5:00 PM and time-specific delivery. ODFL's technology allows customers to monitor their shipments location. With that technology, customers receive real-time status updates and the exact time of shipment delivery.
On demand
Old Dominion's On-Demand emergency shipping service provides time-specific delivery. It can be within one hour of the pre-scheduled delivery time. The company's On-Demand coordinators offer customized solutions for clients' emergency shipments.
ODFL offers same day, next day, or any day services by a specific time shipment services to customers. If the company is unable to process the client's request, it fulfills it through liaisons with asset-based expedited carriers. In such cases, ODFL coordinates the shipment door-to-door. The company also provides household shipping services through the delivery of belongings to new residences.
Article continues below advertisement
Security Divider Service
Old Dominion's Security Divider service provides guaranteed, locked-in security for nose-loaded special or uncrated non-containerized freight. In such services, the customers' cargo is locked securely into place on a trailer at its origin, and the cargo is not unlocked until it reaches its final destination. ODFL provides unique trade show transportation services in the US to clients by allowing clients real-time tracking of the shipment time. The company also offers specific day delivery and scheduled pickups anytime during its expo services.
ETFs
The SPDR S&P Transportation ETF (XTN) has the highest exposure among ETFs (~2.3%) to Old Dominion Freight Line. The trucking and railroad sectors make up 22.2% and 13.0%, respectively, of the portfolio holdings of XTN. Other major logistics companies included in XTN are FedEx (FDX), XPO Logistics (XPO), C.H. Robinson Worldwide (CHRW), and CSX Corporation (CSX).
Now let's discuss ODFL's Global Services.