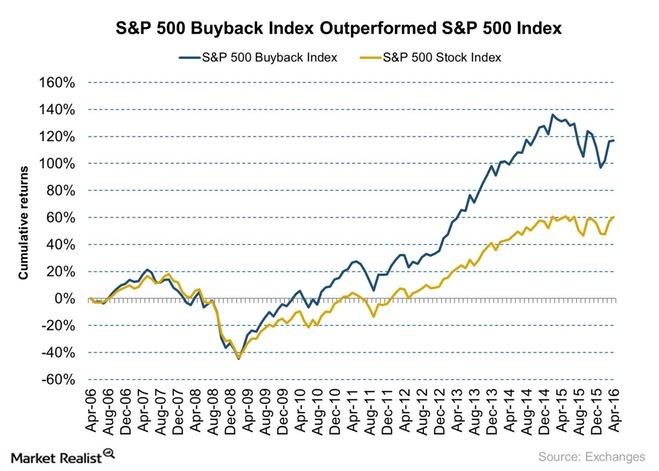 Icahn Identifies a Key Motivation behind the Buyback Spree in the US
<p>Carl Icahn is one of the first activist investors to voice his opinion against share buybacks. He believes that companies are increasingly putting money into buybacks instead of using them for much-needed capital improvements.</p>
Too many buybacks
Carl Icahn is one of the first activist investors to voice his opinion against share buybacks. He believes that companies are increasingly putting money into buybacks instead of using them for much-needed capital improvements.
Article continues below advertisement
Article continues below advertisement
Buybacks to drive up EPS
With profit margin growth almost flat, share buybacks have been driving the Market. Apple (AAPL), Prudential Financial (PRU), and IBM (IBM) have been among the forerunners in the share buyback race.
Corporates report profits through EPS (earnings per share). By reducing the number of outstanding shares, companies increase their EPS. The availability of easy, low-interest rate money available in most developed markets (EFA) (VEA) has led more companies to use borrowed funds to finance their share buyback programs.
With dismal earnings growth, companies are resorting to using borrowed capital to fund their share buybacks programs as a means to boost their share prices. However, these numbers may not be sustainable over two or three years. In the past, Icahn has referred to these earnings as "fallacious." Please read Share Buybacks: Lower Valuation or Cheap Capital? for more perspective.
CEOs are vested
As Icahn pointed out, one of the prime motivations behind this trend is that the CEOs are vested in most of their companies with share buybacks (PKW). They usually have options that mature in three years or so.
When the time comes for these CEOs to exercise their options and make profits, they could attempt to boost the stock price. Many resort to the share buybacks route aided by the Fed-supported zero interest rate credit available in the markets.
However, Icahn does support share buybacks in cash-rich companies. This is evident in his influence on the cash-rich Apple (AAPL).