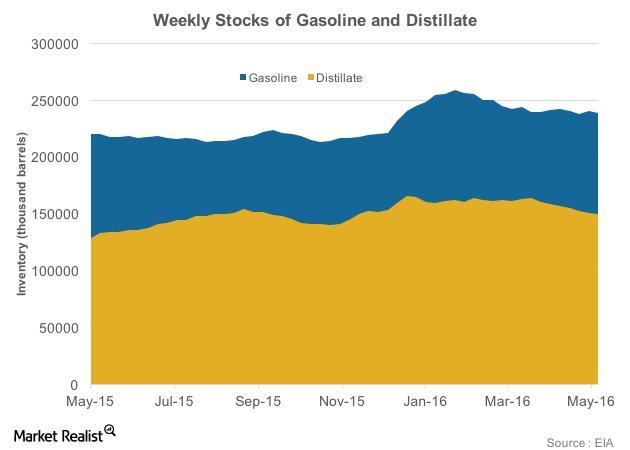 Factors Affecting Refining Margin: Trend in 2Q16
By Maitali Ramkumar

Jun. 16 2016, Published 5:34 p.m. ET
Factors affecting refining margin: Cracks and spreads
The important factors affecting refining margins are cracks and spreads. Cracks, in turn, are influenced by refined product prices.
In the previous part, we saw how refined product prices have risen. Before analyzing cracks and spreads, let's analyze the likely reason for the increase in refined product prices.
According to the EIA, gasoline and distillate stocks fell by a massive 15.4 million barrels and 12.2 million barrels, respectively, on June 3, 2016 from their highs of February 26, 2016. Such a fall of inventory succeeded a massive buildup witnessed in the beginning of the year.
However, demand rose considerably, drawing piles of refined products out of the stocks. This indicates that the growth in demand for refined products has outpaced the growth in their supply during the stated period.
Article continues below advertisement
Crude oil prices
Now, let's analyze the impact of changes in crude oil and refined product prices on the cracks. Rising crude oil prices, as discussed in Part 1 of the series, increase the input costs of refiners. At the same time, if the prices of the refined product rise sharply, it can increase the product cracks that drive refining margins.
Thus, the comparative rise or fall of oil and refined product prices determine the strength or weakness in cracks. Plus, cracks are further influenced by refining complexity and product slate configuration. For more on this, please refer to How Does Refining Complexity Affect Operating Margins?
If you are looking for overall exposure to the total US equity market, including some of the smallest and largest companies, you can consider the iShares Core S&P Total US Stock Market ETF (ITOT). This ETF has ~6% exposure to energy stocks, including Philips 66 (PSX), PBF Energy (PBF), Valero Energy (VLO), and Delek US Holdings (DK).
How have oil spreads moved in 2Q16?
Crude oil spreads also influence refining margins. Lately, the Brent-WTI oil spread has narrowed. The Brent-WTI spread, which stood at an average of $0.55 per barrel in 1Q16, rose marginally to $0.57 per barrel in 2Q16. However, the spread was quite large in 2Q15 standing at an average of $3.80 per barrel.
The narrowing of the Brent-WTI spread can be detrimental to refining margins and vice versa. This is because crude oil consumed by refineries are benchmarked to WTI. Refined product prices have historically moved in line with Brent prices, as with Marathon Petroleum Corporation (MPC).
Now, let's look at what Tesoro Corporation's (TSO) refining index values and MPC and VLO's refining indicators suggest. We'll explore this in the next article.