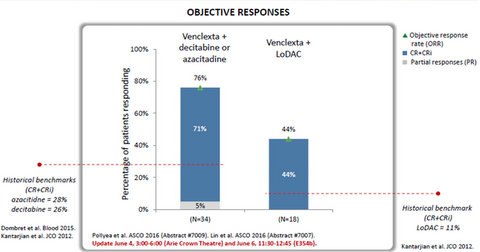 Inside AbbVie's Plans to Target Multiple Myeloma and Acute Myeloid Leukemia Segments with Venclexta
By Margaret Patrick

Jul. 8 2016, Updated 8:05 a.m. ET
The multiple myeloma market opportunity
Despite the launch of multiple new MM (multiple myeloma) therapies by Merck (MRK), Celgene (CELG), and Johnson & Johnson (JNJ), MM continues to offer a strong growth opportunity for AbbVie's (ABBV) Venclexta. According to the American Cancer Society, the disease affects about 30,000 people in the US annually and results in an annual death toll of around 12,650 patients. The median age of diagnosis for MM is 69 years. The five-year survival rate for MM patients is only 50%.
AbbVie (ABBV) has thus planned to capture a share of the MM market through its combination therapy based on Venclexta and the proteasome inhibitor bortezomib.
Article continues below advertisement
Acute Myeloid Leukemia market
The above diagram shows the positive data from preclinical studies that support future research for testing the use of Venclexta in combination therapies for treating AML (acute myeloid leukemia). While standard therapies such as azacitidine or decitabine have historically resulted in response rates of about 28%, Venclexta combined with azacitidine or decitabine has managed to demonstrate a complete response rate of 71% and an ORR (overall response rate) of 76%.
The other standard therapy for AML is low-dose ara-C, which has historically resulted in 10%–11% response rates. But when combined with Venclexta, the combination therapy managed to demonstrate a 44% complete response rate. Additional data from the phase-3 clinical trials testing Venclexta for AML will be presented in the second half of 2016.
According to American Cancer Society, about 19,950 of new AML patients are reported annually in the US. AML also causes 10,430 annual deaths in the US. With a five-year survival rate of only 27% and a lack of significant improvements in AML therapy during the past 25 years, Venclexta's superior efficacy may enable the drug to become a leading AML therapy. This is expected to have a positive impact on share prices of AbbVie and on the First Trust US IPO Index Fund (FPX), which has about 9.1% of its total portfolio holdings in AbbVie.