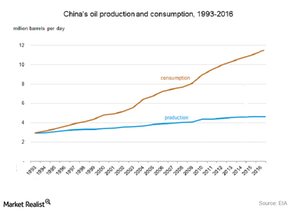 How Will China and India Impact the Crude Oil Market in 2016?
By Gordon Kristopher

Updated
Bullish drivers for crude oil prices 
In this part of the series, we'll look at how China and India are key bullish drivers for crude oil prices over the long term.
Article continues below advertisement
Bullish catalysts for crude oil prices  
China's crude oil production fell to the lowest level in four years. It fell by 5.6% YoY (year-over-year) to 16.6 metric tons in April 2016. It's the biggest monthly decline since November 2011, according to Chinese government sources. China's slowing crude oil production will support its crude oil imports. China's crude oil imports rose by 3.2% to 8 MMbpd (million barrels per day) in April 2016—compared to March 2016. Chinese crude oil imports hit record of 8.0 MMbpd in February 2016, according to data from the Chinese General Administrations of Customs.
South Korea's Ministry of Trade reported that its crude oil imports rose by 11.8% YoY in April 2016 to 87.6 MMbbls (million barrels). Crude oil imports were at 85.9 MMbbls in March 2016. The rise in crude oil imports from South Korea supported crude oil prices in April 2016. The expectation of strong imports should benefit crude oil prices.
In its monthly report, OPEC (Organization of the Petroleum Exporting Countries) highlighted that India's crude oil demand rose by 0.6 MMbpd in March 2016. It's 15% more than the same period in 2015. India's crude oil consumption rose to 4.6 MMbpd in March 2016. It's the second-highest level ever recorded. The rise in demand for fuel oil and gasoline by 29% YoY supported the crude oil demand. The IEA (International Energy Agency) estimates that India's crude oil demand growth rate will be the highest by 2040. To learn more, read India's Crude Oil Demand Will Likely Drive the Crude Oil Market.
December 2020 West Texas Intermediate crude oil futures contracts were trading at $53.38 per barrel on May 18, 2016. The forward curve suggests higher crude oil prices in the future.
The IEA estimates that crude oil production from non-OPEC producers could fall in 2016. Read Non-OPEC Crude Oil Production Impacts Crude Oil Prices and Will the Crude Oil Supply and Demand Gap Narrow by Early 2017? to learn more.
Impact on energy stocks and ETFs
The uptick in crude oil prices benefits upstream players like Ultra Petroleum (UPL), Denbury Resources (DNR), Triangle Petroleum (TPLM), and Northern Oil & Gas (NOG). Crude oil prices also impact ETFs and ETNs like the ProShares UltraShort Bloomberg Crude Oil ETF (SCO), the DB Crude Oil Double Short ETN (DTO), and the Guggenheim S&P 500 Equal Weight Energy ETF (RYE).
In the next part of this series, we'll look at some key bearish drivers for crude oil prices.