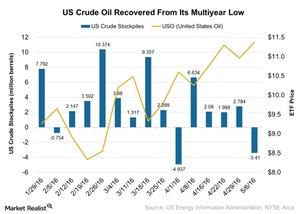 Why David Rubenstein Thinks Crude Oil Could Rally to $70 in 2017
By Sarah Sands

Jun. 7 2016, Updated 12:59 p.m. ET
Rubenstein's stance on crude oil
David M. Rubenstein, co-founder and co-chief executive officer of the Carlyle Group, believes that crude oil could rally to $70 per barrel next year. He's not sure about the particular time frame, but he's expecting crude oil (USO) (UWTI) (UCO) (BNO) to rebound as demand picks up. He says crude oil moves in a periodic manner, and once the downside period is over, the upside period will continue.
Rubenstein has a bullish stance on distressed energy and carbon-related energy companies. He thinks these companies will provide handsome returns. According to Rubenstein, there will always be a demand for carbon-related fuel. He also pointed out that companies with more credit will perform better.
Rubenstein also said that diversification is important for investments. He suggested adding private equity, energy, upstream, distressed energy, downstream, and MLPs. But among all these, he says there are more opportunities for distressed energy.
Article continues below advertisement
Is a crude oil rally sustainable?
Crude oil has rallied since February 12, 2016. As of May 13, 2016, crude oil has recovered nearly 75% from its low on February 11, 2016. Falling US (SPXL) (VOO) (IWM) crude oil inventories are one of the important drivers behind the rally in crude oil prices. Consumption is higher in the summer and spring. Thus, demand for crude oil will increase. The divergence between crude oil supply and demand is increasing bullish bets on crude oil.
However, some investment banks have advised investors not to get too bullish on the crude oil rally. Barclays (BCS) reported on Monday, May 16, 2016, that it's "not yet convinced that prices will remain here or go even higher." Morgan Stanley (MS) reported that this rally is mainly due to some macro factors as well as speculators trying to profit.
In the next part, we'll see why Rubenstein is optimistic on the Brazilian economy.