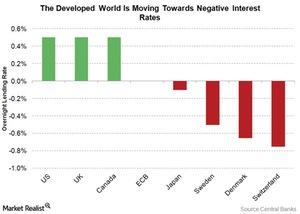 Where Are Interest Rates Going? Ray Dalio Weighs In
Dalio and Brancaccio talk about the future of the economy
On April 7, the manager of the largest hedge fund in the world, Ray Dalio, and Marketplace Morning Report host David Brancaccio discussed the future of the economy and the next recession. They talked about interest rate hikes, business and debt cycles, and the US economy's current position in the cycle. You can find a more detailed explanation from Dalio in his economic principles template, "How the Economic Machine Works in 30 Minutes."
Article continues below advertisement
Ray Dalio on where interest rates are going
Brancaccio started off the discussion by touching on negative interest rates. The European Union (HEDJ) and Japan (EWJ) have already entered negative interest rate territory. The big question remains: will the United States join them?
Bill Gross, one of the strongest critiques of negative interest rates, has been advising the Fed to use Ray Dalio's brilliant model. Gross sees investing in negative interest rates as locking in a guaranteed loss.
Larry Fink, Blackrock's (BLK) chairman and CEO, recently commented on the effects of the negative interest rate regimes of central bankers around the world (ACWI)(VTI). He said, "A monetary policy intended to spark growth, then, in fact, risks reducing consumer spending."
Dalio, a huge proponent of spending, doesn't deny the possibility of the United States entering that territory. Unlike many other market experts who base their investment decisions on financial data, Dalio bases his investment decisions on his reading of the macro economy.
Dalio talks about the next recession
Drawing from his love of macroeconomics and his keen interest in studying cause-and-effect relationships to understand markets and human behavior, Dalio went on to discuss the long-term debt cycle as it applies to the United States (SPY)(IWM)(QQQ) while highlighting where we are in the cycle. Brancaccio and Dalio also weighed in on the possibility of another US recession.