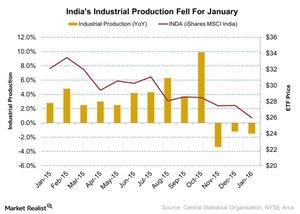 Why Did India's Industrial Production Fall?
India's industrial production fell 
India's industrial production fell by 1.5% in January, according to data released by the Central Statistical Organization. In January 2015, the industrial production index rose to 2.8%. The industrial production showed improvement in 2015. In November 2015, the index had a negative performance of 3.4%.
The fall in industrial production showed a slowdown in domestic as well as international demand. The recent fall in crude oil prices and slowing demand in emerging economies (EEM) (VWO) as well as developed economies (EFA) were the major reasons behind the poor industrial performance in India (INDA).
Article continues below advertisement
Impact on market
The iShares MSCI India (INDA) gained 9% over a month. The recent recovery in the equity and commodity market helped the index gain in the past month. India's major stocks such as Infosys (INFY), HDFC Bank (HDB), and ICICI Bank (IBN) gained 12.8%, 6%, and 23%, respectively, over a month.
In the next part, we'll analyze the performance of US retail sales for February.