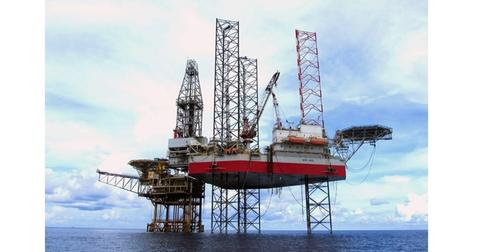 Getting to Know the Types and Characteristics of Offshore Rigs
By Sue Goodridge

Updated
Different rigs
Offshore exploration and development oil wells are drilled with the use of rigs. Rigs come in varied sizes and characteristics, and they are generally equipped for crews to stay and work for days at a time. But depending on water depth and weather conditions, different types of rigs are required. We can classify these rigs in the following three categories:
jack-ups
semisubmersibles
drillships
Article continues below advertisement
Jack-ups
Jack-up rigs are self-elevating drilling platforms attached with legs that can be lowered to the ocean floor. Jack-ups are normally used for drilling in shallow water with water depths up to 390 feet. The legs of these rigs are jacked into the sea floor, and this anchors the rigs, holding them well above ocean waves and offering a relatively steady and motion-free platform for drilling.
Semisubmersible
Semisubmersibles do not rest on the sea floor. Instead, the rig is partially submerged in the seawater, whereas the working deck is well above the surface. Semisubmersibles can drill in water as deep as 10,000 feet, and these types of rigs are very stable for deep drilling because much of their bulk stays below the water surface, making them more suitable for drilling in rough waters. Depending on the technology, year of construction, water depth capability, and deck load, submersibles are generally classified according to generations. The seventh generation, for example, is the latest one.
Article continues below advertisement
Drillships
Drillships are used in very deep water because they can drill in water as deep as 12,000 feet. These are especially used for exploration, due to cargo carrying capacity and mobility. That said, drillships are not as stable as semisubmersibles and are thus unsuitable for rough waters.
Jack-ups, followed by semisubmersibles, drill most of the existing offshore wells today, and drillships come in third place. The jack-up market is more volatile in terms of demand and rates. Recently, major new discoveries are being made by floaters, which include both semisubmersibles and drillships.
Companies and ETFs
Diamond Offshore Drilling (DO), Noble Corporation (NE), Pacific Drilling (PACD), Seadrill (SDRL), Transocean (RIG), and Atwood Oceanics (ATW) all have diversified fleets of rigs. A comparison of these companies can be viewed here. Investors interested in diversified exposure to upstream companies might consider SPDR S&P Oil & Gas Exploration & Production (XOP) ETF.
In the next part of this series, we'll take a closer look at the role of geography and climate when it comes to choosing rig type.