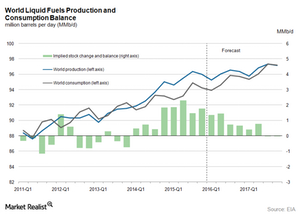 Why Is There a Crude Oil Supply and Demand Gap in 2016 and 2017?
Crude oil supply and demand gap
The EIA (U.S. Energy Information Administration) released its Short-Term Energy Outlook (or STEO) report on February 9, 2016. The report highlighted that global crude oil production could average around 96.1 MMbpd (million barrels per day) in 2016. It would marginally increase to 96.8 MMbpd in 2017.
Global crude oil production averaged 95.6 MMbpd in 2015. The EIA estimates the global crude oil supply and demand gap to average 1 MMbpd in 2016 and 0.2 MMbpd in 2017. The EIA reported that global consumption should grow by 1.2 MMbpd in 2016 and 1.5 MMbpd in 2017.
Article continues below advertisement
Article continues below advertisement
Crude oil supply and demand gap per IEA 
The IEA (International Energy Agency) reported that the global supply and demand gap for crude oil could average around 1.8 MMbpd in 1H16. The IEA added that Iran scaled up production in January 2016. OPEC's (Organization of the Petroleum Exporting Countries) top producers Iraq and Saudi Arabia continue to produce close to record levels. You can also read about China's crude oil production in the article China's Crude Oil Production: A Game Changer in 2016?
Oil prices could be under tremendous pressure in 2016 and 2017 until the supply and demand gap narrows in late 2017. The rising global crude oil inventories and widening supply and demand gap will put pressure on oil producers such as Murphy Oil (MUR), Noble Energy (NBL), Occidental Petroleum (OXY), and Marathon Oil (MRO). For more on US energy companies' financial woes, read US Oil and Gas Companies' Debt Exceeds $200 Billion.
The ups and down in the crude oil market also affect ETFs and ETNs such as the United States Oil Fund (USO), the iShares US Oil Equipment & Services ETF (IEZ), the ProShares UltraShort Bloomberg Crude Oil ETF (SCO), the Vanguard Energy ETF (VDE), and the First Trust Energy AlphaDEX Fund (FXN).
In the next part of this series, we'll look at forecasts for crude oil prices.