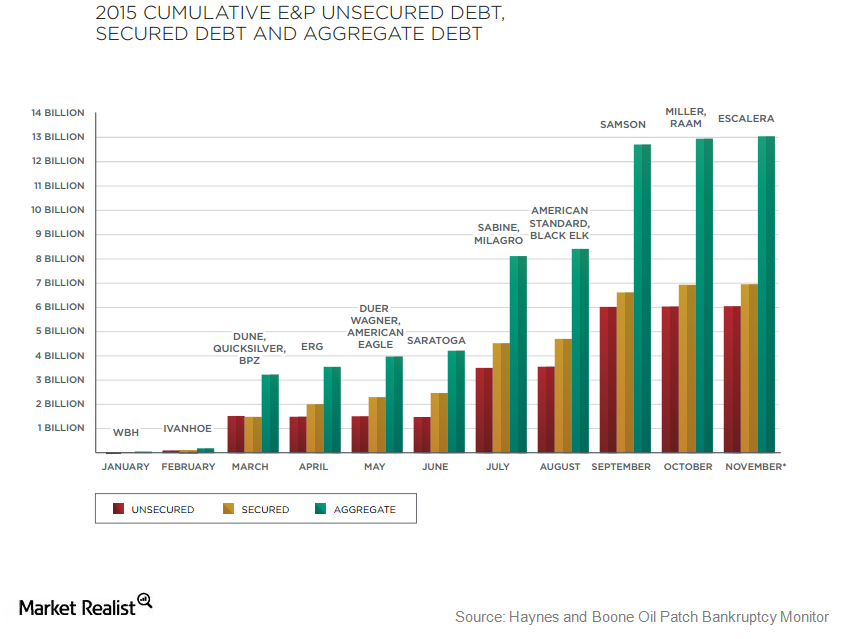 US Oil and Gas Companies' Debt Exceeds $200 Billion
Oil companies' bankruptcies
US oil and gas exploration and production companies are under severe pressure due to historically low oil prices, rising interest rates, and consensus of lower oil prices over the long term. The Federal Reserve Bank of Dallas has reported that oil companies' bankruptcies have reached the level met during the 2008 recession. Nine oil and gas companies with debt more than $2 billion have filed for bankruptcy in 4Q15. Consequently, 70,000 oil jobs have been lost in 2015.
Article continues below advertisement
Oil exploration and production companies' debt
The higher break-even costs and production costs of the US oil and gas producers and the lower oil prices are the major causes for the bankruptcies. Many oil and gas companies are on the verge of filing more bankruptcy cases. This means the production from these companies could vanish, as expected by OPEC members. The Wall Street Journal suggests that the total debt of US oil and gas exploration and production companies, excluding Chevron (CVX) and ExxonMobil (XOM), is more than $200 billion as of 2014. In 2015, 36 oil exploration and production companies have filed bankruptcy proceedings, according to data from law firm Haynes and Boone. These companies had $7 billion secured and $6.1 billion unsecured debt.
In 2015, Samson Resources, Sabine Oil & Gas, and Quicksilver Resources were the largest oil production bankruptcy cases, with debts of $4.3 billion, $2.9 billion, and $2.1 billion, respectively, This is a huge loss to creditors.
Independent oil exploration and production companies Swift Energy (SFY), Energy XXI (EXXI), Halcón Resources (HK), and Goodrich Petroleum (GDP) might also file for bankruptcy, according to a Forbes estimate. These companies have huge debts and have lost more than 90% of their market capital in the last year.
ETFs such as the iShares US Oil Equipment & Services ETF (IEZ), the Vanguard Energy ETF (VDE), and the First Trust Energy AlphaDEX ETF (FXN) are also affected by the roller coaster ride in the energy market. Read how Russia is affected by the oil market turmoil in the next part of this series.