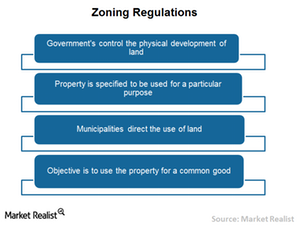 How Zoning Regulations Impact City Development
Series overview
In our previous Market Realist series Why US Housing Affordability Is Not Expected to Improve in 2016, we discussed how rising home prices have led to a lack of housing affordability for median-income households. In this series, we'll discuss zoning regulations and their impact on the development of sustainable housing across the United States.
It has been widely reported in the media that the numerous federal, state, and local regulations related to land and property use regulations, building codes, environmental clearances, and impact fees negatively affect the housing supply. The interpretation of these rules and their implementation by government authorities have further led to a decline in the housing supply. We'll look at the legitimacy of these claims in this series. But first, let's get to the bottom of what zoning rules are and how they have come into existence.
Article continues below advertisement
What is zoning?
Zoning is the way that governments supervise land development and the kinds of uses each individual property may be directed toward for the public interest. Zoning laws typically specify the areas in which residential, industrial, recreational, or commercial activities may take place.
Zoning thus involves the various regulations pertaining to the use and development of real estate, and municipalities use zoning regulations to control and direct the development of real estate properties within their area limits.
The purpose of zoning
The main purpose of zoning is to use the land or a property for the common good of society. Zoning is also used to maintain the unique characteristic of the society, to protect and conserve the value of buildings, and to prevent new development from meddling with the existing uses.
Hurdles to homebuilders
Many zoning laws are perceived as obstructions to the development of properties by homebuilders such as Lennar Corporation (LEN), D.R. Horton (DHI), Toll Brothers (TOL), and PulteGroup (PHM) as the laws limit the use of land for specific use while these companies are targeting specific real estate investment opportunities.
Investors can get exposure to the real estate sector by investing in REITs (real estate investment trusts) like Equity Residential (EQR), or by investing in funds like the Vanguard REIT ETF (VNQ), which has about 4.1% of its total portfolio in Equity Residential (EQR).
Continue to the next part of the series for a more in-depth discussion of the basics of housing affordability.